Sheet, plate 20KH23N18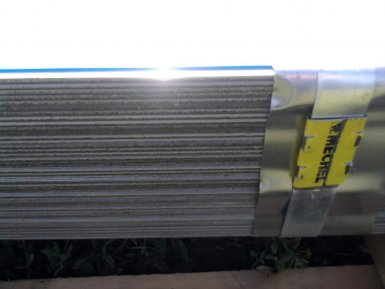 Production
The brand 20H23N18 alloy smelted in open electric arc furnaces. This is a complexly alloyed heat-resistant alloy based on iron contains chromium — 22−25% Nickel — 12−15% molybdenum — 0.35 to 0.55% of manganese and 0.2% carbon — 0.2%, silicon — 1%, additives of phosphorus and sulfur — hundredths of a percent. He belongs to the group of heat-resistant materials because of the high Nickel content. The sheet is rolled at a temperature of 1150−1180°C at the beginning of the process and at 850 °C at the end. Hot-rolled steel has a thickness of 1 to 30 mm pre-painted steel Sheet according to GOST has a thickness of 0.5 — 3.9 mm., the Sheet may be subjected to quenching at t º to 1100ºС with further cooling in water or air. This heat treatment promotes the normalization of internal stresses and to increase the strength characteristics of the sheet.
Dignity
Sheet marks 20H23N18 has a high mechanical strength, heat resistance and heat resistance, corrosion resistance to soil and atmospheric moisture. Sheet is resistant to many corrosive environments, including hot solutions of concentrated acids and alkalis. It also has a high modulus of elasticity and low coefficient of temperature. extensions, and easily tolerates operation under heating up to 850 °C. Strength, durability and reliability make it very popular. However, such costly alloying additives such as Nickel, chrome and molybdenum increase the cost of this sheet.
The physical properties of the alloy at 100 °C.
— temperature coefficient or linear expansion is 12.2 [1/Deg].
— modulus of elasticity equal to 2,19 MPa.
— coefficient of thermal conductivity or the heat capacity of the alloy is not more than 14.6 W/(m·deg).
— the density of the alloy is of 8.38 g/cm3, and when the temperature slightly changes.
the resistivity is equal to 1.1 Omhm2/m.
Application
Leaves 20KH23N18 used in energy, construction, engineering, oil and gas and chemical industry, etc. This list is indispensable in the manufacture of welded structures operating in a radioactive environment. Products that are made from stainless steel 20H23N18, provide strength, reliability and durability various designs. This sheet can be used in the production of hot rolled dual-layer corrosion-resistant sheets as a cladding layer. Biological inertness makes such sheets are popular in the food industry and instrumental in medicine.
Buy at best price
Large range of iron-Nickel rolled stock LLC «AVEK global» allows you to purchase all the necessary products in one place. The quality of the sheet marks 20H23N18 it ensures absolute compliance with all technological norms of production. The timing of orders is minimal. If you have any questions, you will receive detailed advice from experienced managers. Wholesale customers the company provides discounts.