SV-04Х19Н11М3 - 1.4401 - er316 stainless steel welding wire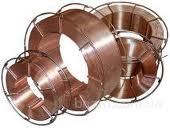 Type W 19 12 3 L Si / EN 12072; ER 316LSi / AWS A5.9. Wire analog: SV-04Х19Н11М3 and SV-06Х20Н11МЗТБ.
Relevance
Corrosion resistant chromium-Nickel welding wire ER 316 brand (SV-04Х19Н11М3) is intended for semi-automatic welding of austenitic stainless steels having the chemical composition Mo — 3%; Ni — 8% Cr -18%, such as: 316, 03Х17Н14М2 10H17N13M3T and other protective gas (argon) direct current DC. This type of weld metal has a high resistance to corrosion in acid and chlorinated environment. Alloying silicon and molybdenum gives high weld quality and high resistance against intergranular corrosion. ER 316 is widely used in chemical, edible oil industry, in mechanical engineering.
Chemical composition of welding wire brand ER 316:
Mo — 2,7
With <0,03
Cr — 19,0
Ni — 12,5
Mn — 1,7
Si — 0,8
Mechanical properties of the wire ER 316:
Rupture strength alloy and high-alloy wire meet the standards.
Limit deviations and wire diameters correspond to the following:
Nominal diameter of wire
Limit deviation for wire intended
for the manufacture of electrodes
for welding (surfacing)
1,6; 2,0
-0,06
-0,12
0,8
-
-0,07
2,5; 3,0
-0,09
-0,12
1,2
-
-0,09
1
1,5
-
-0,09
1,4
4; 5; 6
-0,12
-0,16
Wire diameter, mm
Rupture strength of the wire, in MPa (kgf/mm2), designed
for the production of electrodes
surfacing (welding)
1,6
686−980 (70−100)
882−1274 (90−130)
0,8−1,5
-
882−1323 (90−135)
SV. 2,0
637−931 (65−95)
686−1029 (70−105)
2,0
686−980 (70−100)
784−1176 (80−120)
Supply
Implemented welding wire in plastic spools D-300 in the form of coils or rods. Each rod has marked, Packed in plastic canisters, which weigh 5 kg. Each of these weighs about 15 pounds. The surface of the welding wire must be clean, must not have scale, rust, oil and other contaminants.
Production
Manufacture of the welding wire is possible by drawing and hot rolling in accordance with GOST and technical conditions. There are two types of wire-type surface — pomeneny and copper-plated. The presence of copper on the surface greatly reduces the corrosion of the wire, improving the contact with the feeding device.
Application
Corrosion-resistant chromium-Nickel welding wire brand ER — 316 (or St-04Х19Н11М3) is designed to austenitic stainless steels. Used for semi-automatic welding. The welding wire in the weld pool is carried out automatically in the welding machine. There are three types of semi-automatic welding: one-piece, with a separate mechanism, the feed wire and two blocks, which serves the wire. The composition of the welding wire ER — 316 (or St-04Х19Н11М3) in percentage is: Nickel — 8%, molybdenum — 3% chromium — 18% and is made from steel 10H17N13M3T, 316, 03Х17Н14М2, and other. This wire is alloyed with molybdenum, silicon, which eliminates all crystalline corrosion and provides high quality of weld seam. It is indispensable in chemical, oil industry, machine building and food industry.
Dignity
When welding stainless steel is possible to use simple electrodes of carbon (black) metal, because it leads to a significant reduction in the quality of the weld seam. This property makes stainless welding wire almost indispensable. It is made of high-alloy heat-resistant steel that is able to resist to corrosive environment.
Classification
Physical characteristics (plasticity) the wire is divided into first and second class. Depending on the method of processing the wire is divided into bright and blue. The first method is more common. If damaged wire is not recommended its use, since this can considerably lower the quality of the weld seam. Hardfacing process is an integral part of any steel production. They incorporate a variety of metal. Stainless steel welding wire can be used in the form of material for the production of electrodes as consumable electrode or source of metal for the weld seam. The materials used in the welding process, are divided on the isolation, modification and some other properties.
Buy at best price
The company «AVEK global» supplies welding wire ER 316 at the best price. The popularity of this type of welding wire due to high quality products and real value. Any our products are held absolute control throughout the production chain that guarantees the high quality of our products. Modern technological capabilities at any stage of production give the opportunity to carry out individual orders in the absence of the required items in the basic version. The company «AVEK global» is always ready to produce quality products custom options to order.