Wire tantalum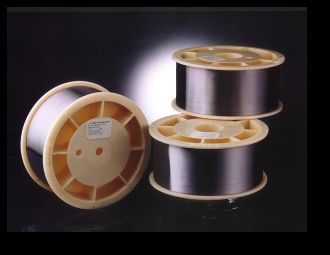 General characteristics
Tantalum is heat resistant and malleable metal with a silvery-gray color. Because of its exceptional properties tantalum is a very time consuming material at all stages of production, therefore, its application can only afford a well-funded industry. Tantalum bar and wire are the most popular types of rolled products in modern electrical engineering, radio electronics, chemical industry, military, medicine, in those areas where tantalum has no alternative — because of refractoriness, ductility, high strength, biological inertness,
Physical quality Ta
Atomic (molar) mass, g/mol
180,9
The degree of oxidation
5
Density [g/cm3]
16,65
The melting temperature t°C
3020°C
The heat of fusion kJ/mol
24,7
The thermal conductivity K [W/(m·K)]
57,5
Heat of evaporation kJ/mol
758
Manufacturer
Because of the difficulty of obtaining the metal was named after the famous king many of Tantalum by saying «tantalising». Tantalum only in the early twentieth century learned to separate from niobium and other impurities, to smelt in its pure form. The production begins with tantalum ore concentrate, which upon receipt contains about 8% of tantalum oxide and 60% niobium. Niobium and tantalum are separated by extraction, and only then refining, restoring the tantalum. Tantalum round, similar to other semi-finished products made of this metal is produced by way of powder metallurgy by means of reduction of metal carbon. Processing is performed by means of electron beam, plasma or vacuum arc melting. Tantalum circle represents the semi-finished product in the form of a cylinder, which is subject to further processing under pressure. The wire is usually rolled to a diameter of 0.05−3mm.
Use
Start using wire of tantalum coincided in the early twentieth century with the search for material as a filament for electric light bulbs. In the market of tantalum lasted for only a few years since was superseded very quickly highly profitable tungsten. Tantalum has a valuable combination of advantages: high emission ability and heat resistance, allowing its use in the manufacture of parts of radio, x-ray and radar equipment. Massive demand for this metal appeared during the development of vacuum technology. Its ability to absorb gases helps to maintain the deep vacuum in vacuum tubes. Tantalum wire used in modern medicine in such areas as plastic and bone surgery, where the bones are bonded with tantalum screws, connecting ligaments, muscles, nerves, produce joint prostheses and bone, is applied in traumatic brain injury «patches». Tantalum is able to cause allergies and does not irritate living tissue. Tantalum wire is also used in superconductors (cryotron), which are used in calculations.
Supply
Wire, whose diameter exceeds 1 mm, comes in a special technological lubrication. The length of the wire depending on the diameter may be 150 — 2000 m. the Percentage of impurity in the capacitor wire (dia. 0,15−1,0 mm) is fully consistent with the composition of impurities in the ingot tantalum.
Buy at best price
Huge range of rare and refractory metals in stock LLC «AVEK global» can satisfy any customer. Absolute compliance with all technological norms of production ensures the quality of the finished product. Deadlines all orders the shortest possible. For any questions, experienced managers will give a full detailed advice. Carrying out wholesale orders, you can count on company-provided flexible system of discounts.