Tape ХН60ВТ - ЭИ868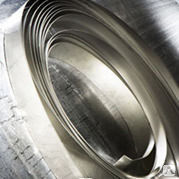 general characteristics
Tape ХН60ВТ — not magnetic, heat-resistant, not afraid of corrosion, designed for work in an aggressive environment at a temperature of 700 — 850 ° C. The rate of oxidation in a calm air atmosphere is 0.03 mm / year at a temperature of 800 ° C. At a temperature of 20 ° C, the tape has a high limit of short-term strength of 500 MPa and a slight elongation at break of 30%. The deposition temperature is 1170 ° C at the beginning, and 850 ° C at the end of the process. The finished tape cools in air.
The tape is rather technological, it can be machined and different methods of welding. Due to the high content of nickel and chromium, the equipment made of such tape has a high corrosion resistance, providing increased reliability of the equipment. The tape ХН60ВТ is durable, reliable and aesthetic, because of what and is in demand in many spheres of the national economy. It is ductile and resistant to an oxidizing atmosphere, to an atmosphere of ammonia and nitrogen. However, its main drawback is that it does not have stability in the atmosphere of sulfur compounds. The tape has a high cost, because of the high cost of the main component — nickel.
Chemical composition ХН60ВТ (in percents).
Ni
Cr
Fe
W
Ti
Mn
Si
Al
Ca
FROM
S
P
To 63.2
Up to 26,5
Up to 4
13−16
0.3−0.7
Up to 0,5
Up to 0,8
Up to 0,5
Up to 0.05
Up to 0,1
0.013
0.013
The chemical composition of the alloy is regulated by GOST 5632−72. This alloy is smelted in open electric furnaces, which provides a minimum content of unnecessary impurities.
Basic properties
The tape has a coefficient of linear expansion equal to 13.7 (1 / degree K). The density of the alloy from which it is produced is 8.16 g / cm³. The tape has a coefficient of thermal conductivity in the range 15.9 — 23.4 W / (m • degree K). This steel, thanks to its chemical composition has a high weldability, which allows you to produce a variety of designs without the use of technological special equipment, and without additional heat treatment at the end of welding.
Hardening
With increased requirements for structures, the strip is hardened at t 1000 1000 — 1100 º C, followed by cooling in water or air. Such heat treatment promotes the normalization of internal stresses in the alloy and increases the strength characteristics of the parts.
Buy at a bargain price
The company Avek Global LLC sells standard and non-standard parameters from heat-resistant chromium-nickel alloys at an affordable price. It is formed taking into account the technological features of production without including additional costs. We have the most diverse products for large-scale productions. We offer good conditions for wholesale and retail customers. On our website you will find the latest information. Our consultants are always ready to answer questions that arise. The implementation of orders — in the shortest possible time. Discounts are given to wholesale buyers.