Brushed stainless sheets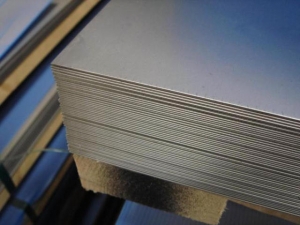 Brushed stainless sheets (2B) have a glossy surface, but without a definition of reflection and the degree of roughness of its surface Ra of 0.1−1 µm depends on the thickness of the metal.
Dignity
High technology, attractive appearance. The smooth surface is not retained dirt, dust, which improves corrosion resistance. This sheet is easy to maintain, does not require a long time to repair or replace, has a high wear resistance. It is widely used in almost all spheres of industry and national economy: construction, medicine, in the manufacture of chemical or food containers, the construction of complex welded structures, the external, internal, architectural decoration, pharmaceuticals, and agriculture. Indispensable when working in aggressive environment and high temperature conditions. Compared with ferrous metal, stainless sheet with the same strength with less weight.
Manufacturer
A thin sheet made according to GOST 19904−74, 5582−75; and fat — according to GOST: 19904−74, 19903−74, 7350−77. The manufacturer goes through several technological stages, aimed at improving the durability, the strength properties. The production processes can be hot-rolled and cold-rolled method. The thickness of the hot-rolled sheet is 2 — 50 mm, and cold rolled steel 0,4 — 5 mm. Dependent on the quality of the surface composition of the material are distinguished: etched (decorative), polished (mirror), polished, oxidised, matte sheet. Precision rolling can be: high — A normal — B accuracy and flatness: very high flatness — SOFTWARE, high — PV and normal — PN. Steel cold-rolled sheet for General purpose has two degrees of traction — deep — G and normal — N; and on three degrees of quality of the surface and cold stamping has four degrees of quality. Corrugated, perforated stainless steel sheet is the most popular type of stainless steel flat rolled metal. It to deliver flat sheets or rolls of a thickness not exceeding 4 m .
Use
A sheet of stainless steel of domestic production in accordance with GOST commonly used industrial industries. Technology of final processing manufacturers create a more aesthetically attractive products. They are used for home appliances, elevators, fire doors, trim railings, doors, window openings, columns, interiors, facades. Stainless steel sheet 12X18H10T meets the highest requirements. It is made of high quality steel, resistant to high temperatures, corrosion, can operate in aggressive chemical environment. Widely used in various industries: in the manufacture of welded food or chemicals in the external and internal decoration, agriculture, and medicine. Can be used in the construction industry (facades of buildings, interiors.). Excellent quality it can be used for pharmaceutical, food machinery.
Supply
Brushed stainless steel sheet comes in rolls (thickness up to 4 mm), and cold-rolled sheet whose thickness is 0.4 — 5 mm, hot-rolled — thickness 2 — 50 mm. the Surface is rough or smooth frosted.
Buy at best price
LLC «AVEK global» sells metal on the most favorable terms. Large assortment of stainless steel sheet in stock, the company is able to satisfy any consumer. The quality of the finished product is ensured absolute compliance with all technological norms of production. The timing of orders is minimal. If you have any questions, you will receive detailed advice from experienced managers. For wholesale orders enjoy significant discounts.