Brass circle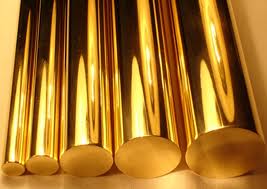 Brass round solid profile with circular section, which is made of a casting or wrought brass. Its properties depend on production method, chemical composition and state of the material.
Dignity
A circle of brass is ductility, wear resistance, high corrosion resistance, high thermal and electrical conductivity. It has aesthetically attractive, meets the stringent sanitary standards. A distinctive feature is its high level of adaptability. It is available for processing by pressure, as in a cold state and the hot. He could easily be cut, perfectly bent, milled, welded, drilled, soldered. Reliability, durability, simplicity of installation and operability in a wide temperature range makes this range popular in a wide variety of applications. It is also worth noting that brass is relatively inexpensive, after the disposal is applied again.
Disadvantages
Brass is a heat-resistant or durable materials, when compared with steel alloys.
Production
The circle of stamps LS59−1, Л6З, ЛС6З-3З, LS58−2 (GOST 2060−2006) should be as chemical. composition — GOST 15527−2004. Sampling for chemical composition control reglamentary GOST 242P1−80. Brass circle can have magnetic characteristics (GOST 15527). The circle stamps LS59−1, Л6З as material is divided into solid, semi-solid, soft. It can be produced with round, square, hexagonal cross-section.
Marking
Hot-deformed circle, he pressed (G); cold-drawn, he is drawn (D). Accuracy of manufacturing distinguish a higher (N); high (). normal (N) accuracy. Special conditions sometimes round improved ductility soft (L); anti-magnetic (AM); high level of plasticity semi-solid (f); normal level of plasticity (); solid improved ductility (); improved ductility extruded (C); in the bays with an ordered layer-by-layer winding (BU); in the bays with a loose winding (BT). Distinguish product length (MD); multiple dimensional (KD); random length (ND).
Application
Brass circle used for the production of bushings, parts, equipment, hardware. It is made of elements of cooling systems of engines, fragments of valves, a variety of decorative elements, the liner of chemical equipment, printing matrix. This range is widely used instrument, chemical industry, construction, shipbuilding, energy. It is necessary for the production of electrical, gas regulators, plumbing, parts, axial piston machines. For watch parts used circle ЛС6З. Extruded round Lccns 58-Z-1,5−1,5−1 particularly in demand in mechanical engineering.
Diameter in mm
Ed.edit
The cost

4−1O

12−16О

Brass round marking LS59−1 soft, hard, semi-hard

kg.

kg.

By appointment

5−1O

12−16О

Brass round marking Л6З hard, soft, semi-solid

kg.

kg.

By appointment
Alloy wheels from alloy marking LC40S manufactured using the method of horizontal molding in accordance with GOST 24ЗО1−9З, chemical composition corresponds to GOST 17711.
Brass circle
GOST
marking
cutting
TU
extruded
2О6О
Л6З, ЛС6З-Z, LS59−1
20−160x500−3000

18457О-1О6-ОЗ7,

48−21-З56−74

round steel bars
2О6О, 6688
Л6З, LS59−1, LS58−2, ЛС6З-Z
6,0−50x1000−5000
Cast brass circle is manufactured using the method of horizontal molding according to GOST 24З01−9З alloy marking ЛЦ4ОС, the chemical composition corresponds to GOST 17711.
Brass round (marking)
Method of production
precision
Special conditions
The condition of the material

D round steel bars cold-drawn

G hot

In high

N normal

P increased

N soft increased level of plasticity,

AB machine-gun round,

AM antimagnetic,

On with cut ends,

With pressed normal plasticity.

R semi-high plasticity,

Solid improved ductility.

N semi-solid,

M soft

T solid.
Buy at best price
To see more details with the products, to clarify its basic qualities, place your order, you can through the website of our company LLC «AVEK global», which specializiruetsya on the supply of non-ferrous alloys. We offer products from warehouses in Ukraine and Russia with delivery to any region of the CIS. All products are certified. The timing of orders is minimal. For any questions, you are always ready to advise experienced managers. For wholesale orders there is a reduced discount.