Circle, rod, wire 20Х23Н13 - 1.4833 - aisi 309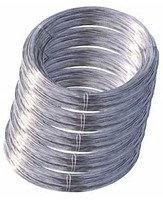 Steel 20Х23Н13 is one of the marks of high-alloy heat-resistant steel, used in components operating in lightly condition at high temperatures of about 900 °C.
Percentage composition
| Mark | C | Si | Mn | Ni | Cr | Cu | P | S | Ti | Fe |
| --- | --- | --- | --- | --- | --- | --- | --- | --- | --- | --- |
| 20Х23Н13 | ≤0,02 | ≤1 | ≤2 | 12−15 | 22−25 | ≤0.3 mm | ≤0,035 | ≤0,025 | ≤0,2 | The rest |
Manufacturer
The circle is obtained by means of forging — cold or hot deformation under specified size. Hot stamping is the most simple and cheap method, less energy-intensive, since the plastic deformation of the metal required much less effort. Usually stamped at the same time, several surfaces of a circle. Processing of multiple surfaces of an economically — resulting in a circle turns smooth, its surface is uniform and sizes are observed in full compliance with the requirements of the customer. It is possible to produce workpieces of different cross-section through the stamp, with the specified size. 20Х23Н13 calibrated rod is made according to the following GOST: 7417−75, 8560−78 and 8559−75. The silverfish and polished bars — according to GOST 14955−77, forged blanks and forgings according to GOST 1133−71. Ready-rolled steel cooled in air.
Welding
When welding requires preheating the parts to a temperature of 100−120°C, final heat treatment seams. Steel 20Х23Н13 belongs to the group of austenitic-ferritic alloys. In comparison with austenitic — steel 20Х23Н13 has more high reliability, high resistance to intergranular corrosion and greater resistance to stress corrosion cracking in alkaline and chloride environments.
Use
A circle is usually used as an intermediate forgings for various products, which have the widest scope. This products high temperature installations that are operated in mechanical engineering and petrochemical industries — discs, flat springs, fasteners, capable of long-term work at t° to 850 °C. At higher heating starts active scale formation. The range is widely used in metallurgical, chemical, textile industry, wire is used for welding steel. Rod, wire and circle can be applied in industrial construction and in the construction of small objects
Buy at best price
Round, rod and wire grade 20Х23Н13 today are widely demanded in the market of metal, due to the low price and huge range. Product quality is guaranteed by strict observance of technological norms of production. Orders are implemented in the shortest possible time. If you have any questions You can ask for advice from experienced managers. Large range of stainless steel products in stock LLC «AVEK global» allows you to purchase all the necessary products in one place. For wholesale orders the company provides a substantial discount.