Aluminium foil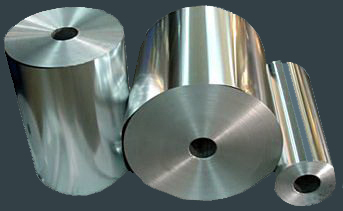 «On the ideals of a nation can be judged by the is» K. Douglas.
Relevance
Aluminium and its alloys have become part of our life. They make a lot of various parts that are widely used in engineering, electrical engineering, chemical industry, light industry and food industry. From aluminum make cooking utensils, tables, and all known aluminum foil.
Aluminum foil
Is of a thickness of 0.2 mm or less. The width of the foil depends on the requirements of the customer. The foil is made from aluminum ingots, melting them. After cleaning the melt and the metal is poured in thin forms after cooling them using special cutters and remove the top layer of metal. The resulting plate is rolled by hot rolls under pressure as long as the thickness of the sheets reaches five millimeters. After the leaves are slowly wound on the drums and with the drums again rolled under pressure only in a cold way.
Dignity
Aluminum foil, which is designed for products that has a certain degree of sterility, it is absolutely non-toxic and contains no impurities. It has a very low weight, easy to transport and store. Owing to its remarkable reflectivity of heat and light allows the foil faster cook foods and to keep foods warm. This is due to the dense and orderly structure of the atoms of aluminum. Another advantage of foil is that it is not the transmission of moisture. Which allows you to cook food virtually in its own juice. As well as the material itself aluminium is not afraid of water, respectively, the aluminum foil is resistant to all types of corrosion. Due to its thickness, the foil is easy to bend, allowing it to form into almost any shape.
Application
Aluminum foil is used primarily in the food industry. It is released in the form of small rolls. The same food aluminum foil is used for packaging various food, for example chocolate, butter. Due to the fact that the foil doesn't leak, light, air, low heat the foods stay fresh and retain their taste. Prevents the penetration of foreign odors and tastes. This is especially true for the packaging of tea and coffee. A thicker foil is used in industry as insulating material for insulation of roofs, walls. It is used for laying of ventilation, as well as in the garment industry. It is used for heat-resistant clothing firefighters. Such foil is relevant in electrical engineering, in the manufacture of transformers, electrical coils, and different wiring.
The types of foil is determined by using different labels.
| IT | annealed standard |
| --- | --- |
| GOH | Clarified annealed |
| H18 | Cold-rolled |
| H19 | Special cold-rolled hardness |
| H24 | Tempered |
| GH28 | Solid, deep drawing |
Buy at best price
The company «AVEK global» specializiruetsya on the sale of non-ferrous metal. We offer products from warehouses in Ukraine and in Russia with delivery to any region of the CIS and abroad. All products are certified and available. Large range will not leave you without a choice. Ensure timely delivery. For wholesale orders discounts. For example, food foil, produced for domestic use comes from 10 rubles for a roll in a bulk order. The foil used in the industry — from 170 rubles apiece for bulk purchases.