Tape, foil 06HN28MDT - 1.4539 - aisi 904L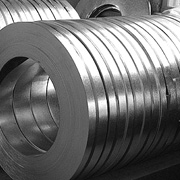 Relevance
Corrosion-resistant iron-Nickel stainless steel 06HN28MDT tape used in the manufacture of welded structures, which are designed to work in acidic media at temperatures up to 80 ° C. This alloy can long time be used in plants for the synthesis of mineral fertilizers relevant to the food and medical industry.
Chem. composition of steel 06HN28MDT regulated by GOST 18143−72
Ni
Cr
Mn
Mo
Si
With
P
Ti
Fe
S
26−29
22−25
to 0.8
2,5−3
to 0.8
to 0.06
to 0.035
0,5−0,9
36,885−46,5
to 0.02
The main features of the brand 06HN28MDT
-Thermal conductivity at 20 °C is 0,134*102 W/(m • K).
Is equal to the density of 7.96 g/cm3.
Hardness HB 200 MPa -1.
— Resistivity at 20 °C is 0.75 Omhm2/m.
— Magnetic permeability in a field of 500 OE at 20 °C = 1,255 micro Tesla/m.
Treatment
Hot treatment of the ribbon takes place in the temperature range from 1170 °C to 900 °C. the tape is Welded with manual, automatic welding with flux and gas protection. In the process of manual electric arc welding using electrodes OzL-37−2, OzL-17U with wire rod St-03ХН25МДГ SV-ОЗХН25МДГБ. This type of filler material is also used for automatic arc and TIG welding. As a recommended brand of flux an-18.
Application
Strip of steel 06ХН28МТД widely used for mounting various kinds of welded structures in the manufacture of heat exchangers, reactors, operated in a particularly corrosive solutions and formulations, as well as at elevated temperatures. Strip of steel 06ХН28МТД indispensable in the manufacture of welded structures operating in a radioactive environment. Products that are made from stainless tapes 06HN28MDT, provide strength, reliability and durability of structures, which makes it popular in the food industry and instrumental in medicine. Stainless tape can be used in the production of hot rolled dual-layer corrosion-resistant sheets as a cladding layer.
Buy at best price
Large range of iron-rolled 06HN28MDT stock LLC «AVEK global» can satisfy any consumer. Price due to the technological features of production without the inclusion of additional costs. Quality is guaranteed by strict observance of technological discipline. The timing of orders is minimal. For wholesale orders the company is practicing a substantial discount.