Wire, round, rod CuZn19Al6 - C86300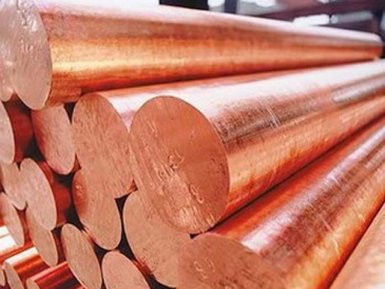 Supplier — AvekGlob Company — offers wire, bar and rod, which are made of brass CuZn19Al6 (С66300) at reasonable prices from the manufacturer. The supplier guarantees the timely delivery of products to any address specified by the consumer.
Technical specifications
Copper-zinc alloy of the brand CuZn19Al6 (also called C66300) is a brass alloyed with aluminum and manganese. The material shows good performance at considerable loads and slip speeds. Reducing the percentage of zinc causes a reduction in the risk of temper brittleness. In the case of using this brass in bearings, a reliable and abundant lubrication is required. In addition to excellent mechanical properties, the alloy also has good corrosion resistance. It exhibits weak ferromagnetic properties.
Urgency of application
Typical details, which are made of brass of the brand CuZn19Al6 (C66300) — brackets for construction equipment, switches, electrical components and connectors — in electrical engineering, fasteners working in corrosive environments. In the general engineering industry, bushings, hooks, frames, racks, gears, bridge pins, propellers, hydraulic cylinder parts, large valve rods, low-speed but heavily loaded bearings, cams, molding dies for wood pulp are manufactured from the brass in question. In maritime affairs, the alloy is used for the production of clamps, rudders of boats, fences for marine equipment.
Chemical composition
In accordance with the technical requirements of DIN EN 17660 and ASTM B505, this alloy contains:
Copper — 60… 66%;
Zinc — 22… 28%;
Aluminum — 5… 7%;
Manganese — 2.5… 5%;
Iron — 2… 4%;
Nickel — up to 1%;
Tin — up to 0,2%;
Lead — up to 0,2%.
The chemical purity of the copper used to smelt the alloy must be at least 99%, while nickel traces are allowed in the copper composition, and cobalt may be present in the nickel itself.
Physical and mechanical properties
density, kg / m 3 — 7830;
melting point, 0 С — 890… 925;
coefficient of thermal expansion at temperatures of 20… 300 0 С, μm / deg — 20,7;
Specific heat capacity, J / kggrad — 85;
Modulus of elasticity, GPa — 98;
coefficient of thermal conductivity at room temperatures, W / Mgrade — 35.5;
Brinell hardness, НВ — 223;
limit of temporary resistance, MPa — 758;
yield strength, MPa — 427;
permissible tensile elongation,% — 15.
Assortment and application features
Aluminum brass CuZn19Al6 (C66300) wire, circle and rod are produced in a wide range of length and diameter. Mechanical machinability of alloys is good, the ability to weld and solder is limited (with the exception of electric welding under a layer of flux).
Supplier — AvekGlob Company — offers to purchase wire, circle or rod from aluminum brass CuZn19Al6 (C66300) in a wide range of diameters and lengths. Products can be bought at a price formed on the basis of European and world standards of production. Implementation is possible in bulk and retail, for regular customers, a flexible system of discounts operates.