L96 - 2.0220 - CuZn5 sheet, strip, pipe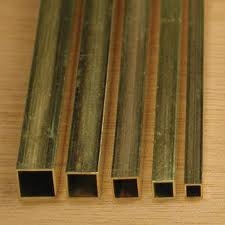 General characteristics
Brass is an alloy of copper and zinc, the percentage of which can vary from 5 to 45%. Brass, in which the percentage of zinc from 5 to 20%, called red brass, which contains 20 to 36% Zn yellow. As a rule, brass, 45% zinc are rarely used.
Zinc is a cheaper material than copper, so its introduction into the alloy along with the improvement of various mechanical properties, significantly reduces the cost of the finished product, so the brass cheaper than copper. In addition, it offers the best technological and antifriction properties, but its electrical and thermal conductivity significantly lower than that of copper.
Brass L96
The main components
Pb%
Fe%
P%
Sb and Bi
Si
Zn
95−97%
2,7−4,8%
0,03%
0,1%
0,01%
Of 0.005% and 0.002%
Marking
Brass compared with copper has high strength and corrosion resistance. Brass is marked «L» and a number that indicates the percentage of copper in this alloy. In a special brass after the letter L is written with a capital letter additional elements. After you specify the percentage of copper is specified the contents of all other elements in percent by a dash.
Types of brass
All the brass are divided into cast and wrought. They also all, except those that contain in its composition lead, is very easily treatable with pressure, both cold and hot conditions. Yet they are very well soldered both hard and soft solders.
The basic qualities
Corrosion resistance of brass under all atmospheric conditions, as a rule, is the average resistance of all the elements that form alloys, i.e. zinc and copper. Brass, which contains more than twenty percent of zinc, very prone to cracking in a wet environment, especially under the influence of ammonia. This is especially true in the deformed product, because corrosion is the most spreading on the borders of brass. To eliminate this deformation, as a rule, the brass is subjected to annealing at much higher temperatures.
L96
Brass brand l96 has a very high percentage of copper in its composition and is 96 percent. This material is very durable and is widely used. This species belongs to the double brass, which are obtained in the melting process. It is also used in mechanical engineering.
Buy at best price
To see more details with the products, to clarify its basic qualities, place your order, you can through the website of our company LLC «AVEK global», which specializiruetsya on the supply of non-ferrous alloys. We offer products from warehouses in Ukraine and Russia with delivery to any region of the CIS. All products are certified. The timing of orders is minimal. For any questions, you are always ready to advise experienced managers. For wholesale orders there is a reduced discount.