Plug stainless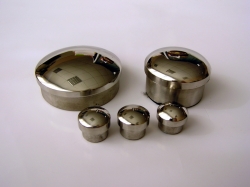 General characteristics
Stainless pipe plugs block the flow of gas or fluid. They are welded or attached to tubing connections. There are stainless plugs HP — with external thread and BP — internal thread.
Application
Large diameters are used for industrial vessels which operate under high pressure. The import stub is produced from steel grades AISI 316, AISI 304L (AISI 304). Internal thread screws onto the end of the pipe, and the external thread is screwed from the inside. Threaded plugs have a diameter of DN 6 (1/8″) — DN 100 (4″). They are widely used in construction, architecture, for example, to make the structures made of pipes aesthetic appearance. Stainless steel flange stub is intended for temporary overlap of a workflow. They have the same connecting dimensions as that of the flanges, but without the center hole.
Imported stainless steel plugs are manufactured from AISI 304L, AISI 304, AISI 316. You must make sure that the spacing for the mounting bolts should coincide with the size of the flange. The spacing of the products imported and domestic production is different. Great demand for stainless steel bungs for welding. Domestic — manufactured according to specifications 26−18−38−90 of steel 12KH18N10T with diameter 57 — 325 mm. They are designed to work at pressures up to 100 atmospheres and temperatures up to -70°C. Under a high pressure of domestic plugs are made thick-walled. Imported — hard pressure requirements do not have the range of sizes — 17,2 — 88.9 mm, wall thickness — 2 mm (for small diameters), steel grade — AISI 304L. Percentage composition 304 L.
| | C | Cr | Fe | Ni | V | Mn | P | S | Si | Impurities |
| --- | --- | --- | --- | --- | --- | --- | --- | --- | --- | --- |
| 304 L | ≤0,03 | 18−20 | DOS. | 8−12 | --- | ≤2 | ≤0,045 | ≤0,03 | ≤1 | ≤0,15 |
Buy at best price
LLC «AVEK global» offers the most favorable conditions of steel products. The offered range of stainless steel caps can satisfy any customer. The volume of purchase and additional conditions of supply depends on the price. Carrying out wholesale orders, you can count on company-provided flexible system of discounts. Our managers are always ready to provide advice. A large range will not leave you without a choice. The timing of orders is minimal. All products are certified. Quality is guaranteed by strict observance of technological norms of production.