07KH16N6 - 1.4310 - aisi 301 nerzhavejka spring wire, round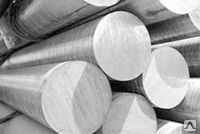 General characteristics
07KH16N6-sh — high alloy steel. Carefully selected components contribute to the mechanical and chemical resistance. The main alloys of alloy — 5−8% Nickel and up to 1?, 5% chromium provide protection against corrosion. In the composition there are additives silicon, manganese.
The percentage composition of (GOST 5632−72)
| Mark | Cr | C | Mn | S | P | Ni | Si | Fe |
| --- | --- | --- | --- | --- | --- | --- | --- | --- |
| 07KH16N6 | 15,5−17,5 | 0,05−0,09 | ≤0,8 | ≤0,02 | ≤0,035 | 5−8 | ≤0,6 | Basis |
Production
Rod brand 07KH16N6-sh has a circular cross section and a length of 2−6 m. the Plastic deformation is carried out at a temperature of 1150 — 1180 °C, and 850 °C. Precision manufacturing is marked by the letters A, B, C, which means high precision, improved accuracy and precision of conventional production. According to the method of heat treatment range is thermally treated — T, without heat treatment, and N — full hard (repeatedly subjected to rolling). The rod is quenched at a temperature of 1050−1150°C in air. This alloy is easily weldable any type. For manual electric arc welding used electrodes OzL-35, OzL-25.
Application
The circle and rod 07KH16N6-sh is used in the production of commercials for slot furnaces, which serve for fast firing ceramic tiles, flat household ceramics and other ceramic products. Wire brand 07KH16N6-sh found in conveyor oven grids. It can withstand the temperature of 1250−1300°C for a long time, has a high resistance at high temperatures to different loads. Also, this steel is used as an intermediate workpiece for the production of a special profile of any complexity. The circle is used as a workpiece for the production of axles, bushings, pushers, shafts and other parts of machinery. The wire is used for different fasteners, mesh, welding electrodes etc.
Buy at best price
The company «AVEK global» there is a wide selection of stainless steel under the order. Here You can purchase products from alloy 07KH16N6-W on the most favorable terms. Our experts are always ready to help in selecting the required products, which determines the efficiency and reliability of future equipment. They not only help You to determine the optimal parameters of products, but also offer the best price. We guarantee high quality of our products and timely delivery