Sheet, strip 08kh22n6t - эп53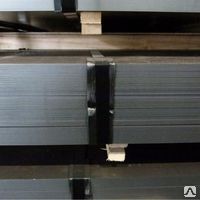 Production
Sheet 08KH22N6T is made from heat-resistant alloy of iron-chromium-Nickel base. The alloy is melted in open electric arc furnaces. This is a plastic heat-resistant and heat-resistant. alloy doped with Nickel to 6.3% and chromium — 21−23%. As additives to the charge added by Titan to 0.65%, copper — 0.3%, manganese and silicon, 0.8%, phosphorus and sulfur — hundredths of a percent. The temperature of the hot-rolled sheet and strip is initially 1150 — 1180 °C, and in the end — about 850 °C. Recommended hardening temperature of 1050−1150°C in air or in water. For manual electric arc welding used electrodes OzL-35, OzL-25.
Alloying brand 08KH22N6T (GOST 5632−72)
| Cu | Si | C | Mn | P | Cr | Ni | S | Ti | |
| --- | --- | --- | --- | --- | --- | --- | --- | --- | --- |
| ≤0.3 mm | Of ≤0.9 | ≤0,08 | ≤0,8 | ≤0,035 | 21−23 | 5,3−6,3 | ≤0,025 | ≤0,65 | |
Classification
Sheet, strip and foil stamps 08KH22N6T are sorted according to the character of the edge for precision rolling. Sheet — optional for flatness. Flatness is a special, superior, normal and high. Accuracy — high and normal. Edge — edged and not edged.
Use
Sheet, strip and foil 08KH22N6T have a wide application in various industries: heavy engineering, construction, medical and chemical industry, in the production of Cutlery and tableware. They are especially in demand in those industrial sectors that require materials with high resistance to thermal overloads in the construction of turbines, motors, combustion chambers, furnaces. Heat resistant steel sheet 08KH22N6T produce designs and components for space and missile defense. The high content of Nickel, chromium in the alloy enables the products to withstand high temperatures (over 1000°C) and not lose resistance to corrosive gas environments.
Buy at best price
A diverse range of high-temperature rolled stock LLC «AVEK global» can satisfy any consumer. Sheet stamps 08KH22N6T is a popular type of metal due to the low price and large number of variations. The quality of the finished product is ensured strict compliance with all technological norms of production. The timing of orders is minimal. If you have any questions, you will receive detailed advice from experienced managers. For wholesale orders the company is practicing flexible system of discounts.