Roofing copper sheet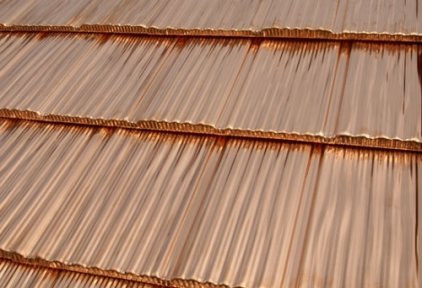 Use
Copper roofing sheet is widely used for the construction of the top layer of the roof. Due to the fact that the copper sheet has a very high strength and corrosion resistance, this material provides long-term operation of the roof without the necessity of its replacement or repairs for decades. Heat resistance and attractive appearance of this sheet allows to widely use it for decorating fireplace areas.
The basic qualities
Copper roofing is the most reliable and durable. Though copper and refers to non-ferrous metals, but this stuff today is quite affordable for a very wide range of consumers. This material is more expensive than other coverings for the roof, but technical specs are much higher. Copper roof retains its original appearance for decades. In modern Russia, as well as in Europe and now you can find quite a lot of buildings belonging to the monuments of architecture, with a copper roof. Many facilities were built in the 18th and 19th centuries, but there are also those which today has over seven hundred years, but they still attract attention with their magnificence and nobility of the copper roofs.
Relevance
Today, the copper roof is experiencing his second birth. More and more people begin to give the preference to the roofs, made of this metal. In addition, the use of modern technologies allows not only very fast but also enough to make high quality mounting and turn the roof into a real masterpiece of architecture.
Varieties
By design, the copper used as a roofing material, is divided into three main types such as: copper shingles, Filatova roof, and a copper sword.
Copper shingles is an artificial material, it is made from separate pieces of copper in finished form it may resemble the surface of a stone, scales or wood.
The copper block is a special plate, made in the form of rhombuses, trapezoids or squares, different in their form.
Manufacturing technology Palatului roofing is the manufacture of individual elements of coverage, the so-called paintings.
Buy at best price
In stock LLC «AVEK global» — the widest range of copper sheet at affordable prices. Buy and order the copper sheet on the warehouse, and via the Internet website of the company. Introducing copper sheets and multiple dimensional measuring length, normal strength and precision manufacturing with a standard finish. Quality assurance performs full observance of technological norms of production. Terms of delivery — minimum. The price depends on the terms of delivery and volume of orders. In the case of wholesale purchases there is a flexible system of discounts.