KHN65MV - эп567 sheet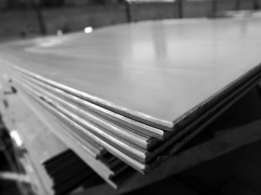 Relevance
Metal structures and components in modern industry are often forced to work in the most demanding conditions. They are exposed to high temperatures, aggressive gases and fluids, withstand significant mechanical stress. Sheets of stainless alloy KHN65MV designed for continuous operation at operating temperatures up to 800ºС, high load and in a hostile environment.
The percentage KHN65MV, GOST 5632- -72
Ni
Mo
Cr
W
Fe
Mn
Si
P
C
S
59,8−67,5
15−17
14−16,5
3−4,5
1
1
0,15
0,015
0,03
0,012
Properties
Sheet KHN65MV available to any types of treatment, has a resistance in oxidizing atmosphere, in the atmosphere of ammonia and nitrogen. Its surface is not oxidized during prolonged work in high temperature environment. The coefficient of linear expansion = 13.7 per (1/deg K). Density of 8.9 g/cm3. The mechanical properties of the sheet depend on the temperature. Up to t º 800ºС the resistance of the load will be maximum. Coefficient of thermal conductivity in the range in the range 20 — 100 º C = 0,126 • 102 W/(m • K).
Welding
Is arc or TIG welding. For TIG welding the filler material used wire KHN65MV and KHN65MVU. For arc welding use electrodes OzL-21. Welded joints are resistant to intercrystalline corrosion and cracking.
Heat treatment
The sheet may be subjected to quenching at t º 1000 — 1200ºC with further cooling in water or air. Such heat treatment promotes the normalization of internal stresses and to increase the strength characteristics of the sheet.
Application
Thanks corrosion resistance, high strength and heat resistance, leaf KHN65MV finds the widest use. It produces sheet metal parts, welded flue pipe installations for high temperature petrochemical engineering and in the production of ammonia. Leaves KHN65MV used primarily for the production of structures and components that are required to ensure a long and trouble-free operation at temperatures of 700−850ºС with a large supply of mechanical strength. Technological quality of the sheet allow to apply all modern methods of Metalworking: grinding, cutting, polishing. A large range of sizes produced sheets can facilitate the selection of more appropriate blanks for details.
Buy at best price
The company «AVEK global» sells heat-resistant sheet KHN65MV on favorable terms. Price due to the technological features of production without additional costs. The warehouse contains the widest choice of products for large-scale production. We offer attractive terms and conditions for retail customers. On the company's site displays the full information about goods. All products are certified. The timing of orders is minimal. For wholesale orders the company provides a substantial discount.