ХН73МБТЮ - ЭИ698 sheet, circle, wire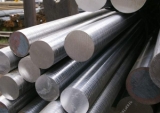 Alloying
The brand KhN73MBTU-dv (EI698-dm) is high-alloyed heat-resistant steel, which in addition to a significant share of nickel (65.073 — 71.2%) and chromium (26−29%), niobium up to 2.2%, titanium Up to 2.75%, molybdenum up to 3.2%, iron — 1%. Components such as carbon, phosphorus, sulfur, manganese, and others are contained in tenths and hundredths of a percent. The purpose of alloying is to improve the technological properties of products: their heat resistance, heat resistance, ability to withstand aggressive environments. Excess doping increases the cost of the alloy, so it is carried out extremely economically.
Chemical composition of the alloy
Ni
Cr
Fe
C
Mn
Nb
Mo
Si
P
S
P
Ti
Basic.
26−29
1
≤0,08
≤0,4
1.8−2.2
2.8−3.2
≤0,06
≤0,0151
≤0,07
≤0.01
2.35−2.75
Manufacturing
The smelting is carried out in an open induction furnace. Rolling is carried out at a temperature of 1170 ° C at the beginning of the process, and 800 ° C at the end. The steel is cooled after deformation. In accordance with the first regime, cooling with water, oil or air takes place, and according to the second regime, it is cooled with water and then held for 3−4.5 hours. Pipes are produced by usual or increased accuracy. At the request of the consumer, they are made with different types of thread: for example, with cylindrical threaded threads of different lengths, and also without threads. The rod and the circle are produced by hot rolling and calibration — to give the products an accurate outer diameter. Weld the brand KhN73MBTU-v with the help of electrodes KTI-762.
Using
Pipes ХН73МБТЮ-вд can work for a long time under load at a temperature of about 650 ° C. They are used by mechanical engineering for the production of disks, rotors, as well as industrial chemistry, oil and gas, pulp and paper industry. This steel is suitable for the production of water-gas pipes, which are used for industrial, civil construction, for example, in heat exchange systems. In addition, transitions and fittings for routing stainless steel pipes are made of it. Seams in this case must have the same requirements for heat resistance, heat resistance, which depend on the alloy used, the choice of welding materials, welding regimes, and the presence of heat treatment at the end of the process.
Buy at a bargain price
Large assortment of stainless steel in stock Avek Global LLC is able to satisfy any customer. Alloy ХН73МБТЮ-dm is in great demand in the metal products market. High quality is ensured by strict observance of technological discipline. Terms of execution of orders are minimal. If you have any questions, you will receive an exhaustive consultation from experienced managers. With bulk orders, the company practices significant discounts.