Aluminum rod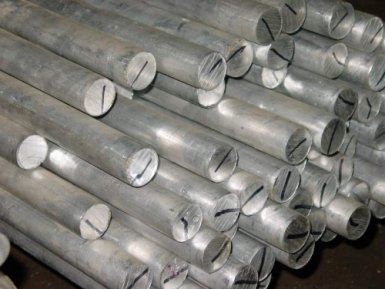 Relevance
The most practical kind of rolled aluminum is the rod. It is made with round, hexagonal, or square cross-section of aluminium alloys (GOST 21488−97). Its indisputable advantages reveal the wide scope of application.
Dignity
Aluminum rod is light enough, cheap, very durable and lends itself perfectly to all types of machining. This material has excellent heat and electrical conductivity. Due to the presence on the surface of a hard oxide film, it is very resistant to corrosion and adverse effects of the environment, while it is completely non-toxic, non-magnetic, aesthetically and biologically inert, the sum of the technological parameters it is superior to steel, because it is very light, ductile and cheap material, which is durable even when exposed to sea water.
Disadvantages
The main disadvantage of chemically pure aluminium is that it is less durable compared to steel, can not withstand very high loads and high temperatures.
Marking
Quality
Feature
Marking
Home section
round
CU
square
KV
hex
SHG
The condition of the material
without heat treatment
tempered
soft
M
aged naturally
T
aged artificially
T1
Strength
normal
high
PP
Length
measuring multiple lengths
CD
random lengths of desired size
NC
bays
BT
Manufacturing of aluminum twig
| Name | GOST | Mark | Size | The presence of |
| --- | --- | --- | --- | --- |
| Aluminum rod | 4784, 1131 | The AVPP, AK4−1, AK6, АК6ПП, AD1, AD31, АД31Т1, АД33Т1, Amg2, Amg3, AMg5, AMg6, АМг6М, AMC, AMCs, V95, В95Т1, Д1ПП, Д1Т, D1, D16, Д16ПП, D16T, Д16ТП, Д16Ткв, Д16ЧТ, Д16ЧТПП, Д19Т, Д19ЧТ, Д19ЧТПП, D20, Д20Т1, SAP-2, 1915, 1561, 1561М | 04,0−660,0 | 926−37−36 |
Buy at best price
The company «AVEK global» has been supplying aluminum rolled products under the order on the most favorable terms. We offer You a wide selection of rod is made of aluminum and its alloys, the chemical composition of which is regulated by standards GOST 4784. It is also possible to manufacture the rod with very high frequency according to GOST 11069. Prices are regulated depending on the order quantity, for wholesale purchases there is a flexible system of discounts. The quality of the products is governed by the norms of GOST.