Stainless steel sheet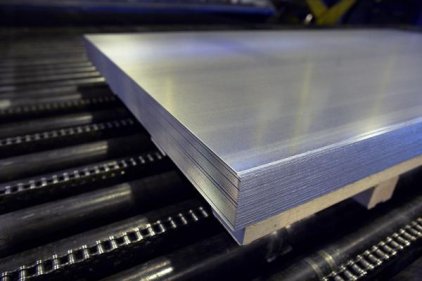 Advantages
Stainless steel has high corrosion resistance, which distinguishes it from the black metal. The advantages of the sheet is also necessary to include high technology, attractive appearance. It is easy to installation, operation, does not require much time for repair and replacement, has a high wear resistance. Widely used in almost all sectors of the economy: construction, medicine, production of chemical and food containers in the construction of welded structures, for exterior, interior decoration, pharmaceuticals, medicine, agriculture, etc. It is irreplaceable in the conditions of high temperature environment and corrosive environments. Compared with ferrous metal, stainless steel with the same strength with less weight.
Manufacturer
A thin sheet made according to GOST 19904−74, 5582−75; fat — according to GOST 19904−74, 19903−74, 7350−77. He and the other passes certain technological stages, aimed at improving the durability and strength properties. Produce hot-rolled and cold-rolled method. The thickness, HR is the 2 — 50 mm, and cold rolled steel 0,4 — 5 mm. depending on the category of surface quality and composition of the material distinguish between etched (decorative), polished (mirror), polished, oxidised, matte sheet etc. On the accuracy of rolling are distinguished: high — A normal — B accuracy. For flatness: very high flatness — SOFTWARE, high — PV and normal — PN. There are two degrees of traction — deep — G and normal — N; and three degrees of surface quality. Steel cold rolled sheet, designed for cold stamping has four degrees of quality. Corrugated or perforated — are the most popular type of stainless steel flat rolled metal. It is delivered in coils with thickness not more than 4 mm or in flat sheets.
Cold rolled steel sheets can be: honed, polished, mirror, decor, food.
DIN
ASTM
EN
Surface
n (IIIc)
2B
2 B
heat-treated, cold rolled, pickled
Frosted mirror
c2 (IIa)
1
1 D
heat-treated, hot-rolled, pickled
hot rolled
M (IIId)
BA
2 R
with firing in a vertical furnace, cold rolled, solution of ammonia
Mirror
Use
Widely used in various industries: in the food industry in the manufacture of tanks in the chemical industry, welded structures, external and internal decoration, agriculture, medicine, construction (construction of buildings and fences, the cladding of facades of buildings, etc.). Excellent quality allows to use it for the production of pharmaceutical and food equipment. Brand 12X18H10T meets the highest requirements. Made from high quality steel, resistant to corrosion at a temperature of 600 °C, can be operated in extreme conditions, including in aggressive environment so indispensable in the chemical industry.
Percentage composition GOST 5632−72
Mark
C
Si
Cr
Cu
Mn
Ni
Ti
S
P
Fe
12KH18N10T
≤0,12
≤0,8
17−19
≤0.3 mm
≤2
9−11
≤0,8
0,02
0,035
the rest
Similar properties has mark 10X17H13M2Tserving material in the production of units and machines, which work reliably at high temperatures in aggressive environments. Stainless
Percentage composition GOST 5632−72
Mark
C
Si
Mo
Cr
Cu
Mn
Ni
Ti
S
P
Fe
10X17H13M2T
≤0,1
≤0,8
2−3
16−18
≤0.3 mm
≤2
12−14
≤0,7
0,02
0,035
the rest
Alloy 20H23N18 has all the advantages of high-alloy steel — heat resistance, corrosion resistance. Rolled thin and thick sheet, depending on the scope of use and standards. In demand almost everywhere, including any industry. Consumers are attracted, first and foremost, excellent weldability, which has no restrictions.
Percentage composition GOST 5632−72
Mark
C
Si
Cr
Cu
Mn
Ni
Ti
S
P
Fe
20H23N18
≤0,2
≤1
22−25
---
≤2
17−20
---
0,02
0,035
the rest
Buy at best price
Sheet steel is delivered in coils (thickness up to 4 mm). Cold-rolled thickness equal to 0.4 — 5 mm, and HR — 2 — 50 mm. the Surface can be rough or smooth frosted. To purchase and see more details of products and specify its basic properties, you can on our website the company «AVEK global» where a huge range of products that are available in retail and wholesale.