Cloth Compensator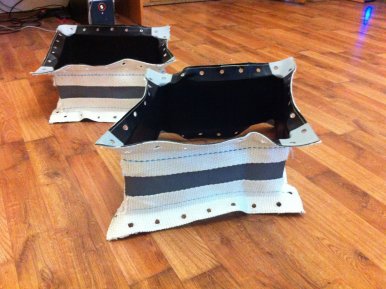 general characteristics
The fabric compensator is a design of protective and connecting fittings, special heat-resistant and chemically resistant materials, which combines one composite fabric insert.
On how strong the compensator, depends on its performance and smooth operation. To increase strength, only high-quality, time-tested materials that are resistant to UV radiation, frost resistance, increased gas density are used. This insulation can withstand the effects of alkalis, acids, mechanical damage, high temperatures. For work at high temperatures it is additionally equipped with thermal insulation materials. They are the main load. As a rule, this material is used in the construction together with the metal built-in unit. The advantage of this unit is that it is a flexible element located at a certain distance from the flow, protected from damage by telescopic protective screens, thermal insulation materials.
Varieties
Multilayer fabric compensating devices are equipped with additional internal insulation. These devices are made of several layers of gas-tight and heat-insulating materials. When choosing a material, the installation location, the temperature of the transported medium are taken into account. Used in areas of equipment where the temperature can reach 1000 — 1200 ° C. The main feature is a large compensating capacity with relatively small dimensions. Installation locations: blast furnace gas flues, dusty environments, gas pumping compressor stations, boilers, power gas turbines, convective mines.
For aggressive media, a chemically resistant PTFE is used, which is the main material of the compressor. These devices are able to withstand the effects of acids and alkalis. With relatively small dimensions, they have a high compensating ability, low rigidity. Scope: draft machines, gas cleaning systems, gas removal.
Tissue expansion joints operating at low temperatures. Equipped with 1 — 2 layers of gas-tight material. Quench the temperature fluctuations of equipment, vibration. Scope: fans, air ducts for supply ventilation.
High-temperature fabric compensators. Several layers of gas-tight or heat-insulating materials are used. Are used in areas with high temperature. For flue gases, t ° can reach + 500 ° C. Scope: technological flues, TPP equipment, flexible insertion of draft machines, compensators for air lines, gas pipelines.
Buy at a bargain price
LLC «Avek Global» offers the most favorable conditions for the realization of a tissue compensator. The offered assortment of compensators can satisfy any customer. The price depends on the volume of purchase and the additional terms of delivery. By carrying out bulk orders, you can count on the company's flexible discount system. Our managers are always ready to provide advice. A large assortment will not leave you without a choice. The lead time for orders is minimal. All products are certified. Quality is guaranteed by strict observance of all technological norms of production.