A bronze pipe in assortment: any length and diameter - Open Company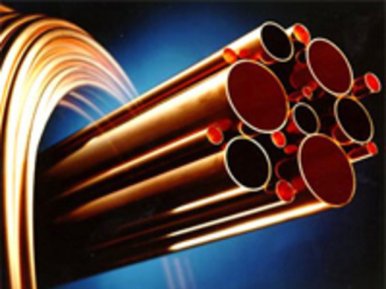 Advantages
Bronze pipes are particularly strong, plastic, they are very amenable to machining. In addition, they are easily cut, bored and, with the exception of aluminum bronzes, easily soldered by any solders. They are remarkable for their resistance to corrosion, the action of aggressive reagents, they are distinguished by good thermal conductivity, durability, and are widely used in many branches of the national economy.
Production
Bronze pipes are made by the method of hot and cold rolling. Tin bronzes are used — an alloy of copper with aluminum, as well as alloys with silicon, beryllium — depending on what tasks will be necessary to solve. According to GOST 1208 pressed bronze types of pipes produce from brands BrAJMc10−3-1.5; BRAZHN10−4-4, their chemical composition is normalized to GOST 18175. Manometric pipes are made of BrF4−0.25 alloys according to GOST 2622 .
| Bronze Mark | Hardness HB 10 -1 | T ° melting (in ° C) | Σv (MPa) |
| --- | --- | --- | --- |
| BRAZH10 4−4 | 130−150 MPa | 1084 ° | 450−830 |
| BRAZhM10−3-1.5 | 125−140 MPa | 1045 ° | 400−700 |
| BrOF4−0.25 | 145−155 MPa | 1060 ° | 300−700 |
| BRAJ9−4 | 100−120 MPa | 1040 ° | 400−700 |
Note. The range σ in (MPa) is given for a soft / hard alloy.
According to the types of cross-section, the pipes are:
— Flat-oval;
— oval;
— Round.
| Variety | Guest | Make | Main settings |
| --- | --- | --- | --- |
| Pipes | 1208 | BRAZHM10−3-1.5 BRAZHN1O-4−4, BrOF4-O, 25 | 7−18OXO, 15−6OCHND |
Application
A rare combination of strength, ductility, great resistance to corrosion makes the bronze pipes highly reliable, durable in operation. They are actively used for main pipelines that transport water, a variety of technical fluids, chemicals that cause corrosion of steel. Often, bronze pipes are used as blanks for cutting and stamping in the production of rolling elements: bearings, separators. Manometric pipes are usually used for the manufacture of springs.
Buy at a bargain price
In stock Avek Global always has an unlimited range of products from non-ferrous metals at the best prices. The offered choice will satisfy any customer. You can purchase any types of bronze pipes of standard and non-standard parameters using the company's website or by contacting our representative office. The quality of products is guaranteed by strict observance of technological requirements and production standards. In addition, the timing of orders is minimal. The level of prices depends on the volume of the order, as well as other conditions of supply. For wholesale orders a flexible system of discounts is provided.