Isolated nichrome CR20NI80 - 2.4869 - Ni80Cr20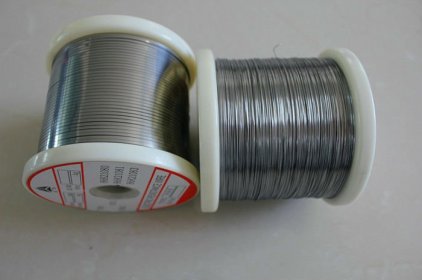 General characteristics
The called nichrome precision alloy with high electrical resistance, which is widely used for heating elements. Nichrome in isolation consists of two parts: wire CR20NI80 insulation that covers it. Typically, the insulating material used to STEKLONiT, enamel, polyvinyl chloride.
Nichrome consists of the following chemical elements: Ni (55 до78%), Cr (15 to 23%), and Mn (1,5%). The balance is iron. The resistivity of the alloy of 1.0 — 1.1 Omhm2/m, and the density is 8.2 — 8.5 g/ cm3. This material is operated at a temperature of about 1000 degrees without loss of mechanical strength. The main advantages of nichrome: high melting point, corrosion resistance, low coefficient of thermal expansion, hardness, strength.
Requirements for nichrome in isolation
To the Central conductive core used wire grade CR20NI80 Ø 0,2−2,0 mm. the Material is for insulation — to STEKLONiT, the melting temperature, which is ~500°C. STEKLONiT having a diametrical thickness of 2±0.2 mm, is wound on a wire coil to a coil. The breakdown voltage of insulation shall be not less than 1250 V. Setup GIN (flexible insulated heater) by winding on a frame in several layers, is not allowed to avoid overheating. The minimum bending diameter flexible insulated heater should not be less than 5 times the diameter of the conducting core. According to GOST 10994−74 nichrome in isolation is recommended for use in electrical heating equipment of high reliability
Application
Nichrome in isolation is widely used for heaters, electric, industrial and laboratory furnaces, household electrical appliances, soldering irons. Used in all branches of industry: heating furnaces, heat exposure, drying kilns and firing. Demand for heating of building structures, heated seats of the car. It is also used as heat-resistant (heat-resistant), chemical resistant alloy in corrosive environments.
Dignity
— significant electrical resistance and mechanical strength;
— increased resistance to the formation of oxides, thermal fatigue scale at a temperature of 1200ºC;
— significant resistance to talismanom;
— a large number of cycles off-enable heating elements to their destruction.
Buy at best price
The company «AVEK global» implements nichrome in isolation at a reasonable price. It is formed under the influence of European prices on colored Bicycle without the inclusion of additional costs. You will be satisfied with the level of service and excellent quality products. On our website reflects the most current information. Our managers are always happy to help answer questions. Implementation of orders in the shortest possible time. Wholesale buyers get a preferential discount.