Sheet, strip - 2.0921 - CuAl8 - C61000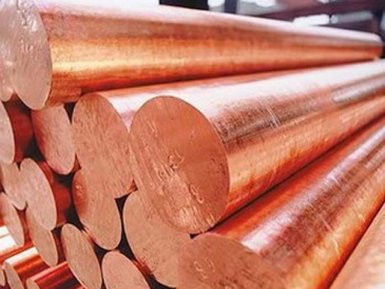 Supplier — AvekGlob Company — offers at a reasonable price from the manufacturer a sheet and tape made of aluminum bronze grade CuAl8 (alloy C61000, alloy 2.0921). The supplier guarantees the timely delivery of products to any address specified by the consumer.
Technical specifications
Aluminum bronze sheet steel grade CuAl8 (other names — alloy C61000, alloy 2.0921) is used mainly in welding technologies, as it is ideal for welding pure and austenitic steel sheet. It maintains a good rate of welding and creates a seamless welding line. effective for butt welding of copper with steel, for engineering products and shipbuilding industry. Suitable for use in pulsed argon-arc welding, which is recommended for multi-layer hard facing of steel products.
Urgency of application
Aluminum bronze grade CuAl8 (alloy C61000, alloy 2.0921) is used in the manufacture of housing parts of plain bearings operating under abrasive and corrosive wear at a load of up to 125 MPa. Sufficient wear resistance of such products is preserved when they are used in salt water, soluble salts of various metals and many commonly used acids at different concentrations and temperatures.
Typical applications are pipe and sheet products, valve seats, etching hooks, impellers in chemical engineering and pulp and paper industry.
Chemical composition
It is given in the table:
Standard
Name
Make
Cu
Al
Fe
Mn
Ni
P
Pb
Si
Sn
Zn
Other
GB / T9460
SCu6100A
CuAl8
the basis
7.0−9.0
No more
0.5
No more
0.5
No more
0.5
-
No more
0.02
No more
0.2
Not more than0.1

No more

0.2

No more
0.2
BS EN14640
Cu6100
CuAl8
the basis
6.0−9.5
0.5
0.5
0.8
-
0.02
0.2
-
0.2
0.4
Physical and mechanical properties
Density, kg / m 3 — 7700;
Melting point, 0 С — 1040;
Modulus of elasticity, GPa — 230;
Impact strength, kJ / m 2 — 65… 90;
Limit of time resistance, MPa — 450;
Yield strength, MPa — 270;
Relative elongation at tension,% — 40… 45;
Hardness in Brinell, HB, not more than — 121.
Assortment and application features
Sheet steel from bronze CuAl8 (alloy C61000, alloy 2.0921) is made of a thickness from 0.8 to 4.0 mm, with a width of up to 2000 mm (sheet) and up to 400 mm — a tape. The weldability of the aluminum bronze in question is good.
Supplier — the company AvekGlob — offers to buy sheet or tape made of bronze aluminum grade CuAl8 (alloy C61000, alloy 2.0921) in a large range of sizes and lengths. Products can be bought at a price formed on the basis of European and world standards of production. Implementation is possible in bulk and retail, for regular customers, a flexible system of discounts operates.