Copper strip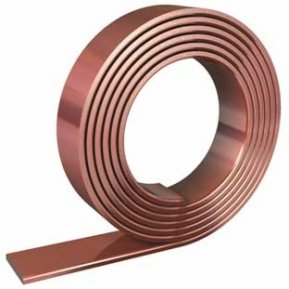 Dignity
The copper strip has a very high corrosion resistance. It is ductile, a good conductor of heat and electricity. It is inexpensive, available for all types of soldering and welding, very easy to bend, cut, drilled. Performance when significant changes in temperature deserves special attention. Ease of installation, aesthetic appearance, long service life, meet the most stringent Russian and international standards. Doing all of the above copper strips extremely beneficial when using. If necessary to improve the technical qualities used in the production of additional heat treatment and alloying.
Production
Copper strip is a solid profile of rectangular cross section made of copper or its alloys by cold deformation in the rolling mills. The manufacturer normalizes GOST 495−92 copper marks M1, M2 and M3 with tolerances in chemical composition within the limits of GOST 859−2001. Sampling for chemical composition control is performed in accordance with GOST 24231−80. The finished bars have a rectangular cross-section with smooth cutting without bending the edges and clean the surface without burrs. For hardening apply heat treatment. With annealing, the increase qualities such as machinability of materials reshenijami and plasticity in the processing of deformation and good hardness provides cold deformation. The hard and soft bands each have its advantage and scope.
Application
This band is for creating electrically conductive elements and roofing material. Because it is made with decorative designs, wind instrument, climatic equipment. Copper strip is a semifinished product for further processing, it is very popular in electrical engineering, in the construction and engineering industry.
Strip thickness, mm
Strip width, mm
Prices for copper strip, per kg
Copper strip mark M1 of the hard and soft
3 ÷ 12
20 ÷ 120
contractual
Copper strip mark M3 of hard and soft
3 ÷ 12
20 ÷ 120
contractual
Buy at best price
LLC «AVEK global» supplies a wide range of rolled copper at the best price. Selection will satisfy any customer. Order and buy the copper strip of any parameters is possible through our nearest office or through the Internet website of the company. Supply of strips in lengths or coil dimensional and multiple dimensional length normal manufacturing precision and strength with a standard surface finish. High quality is guaranteed by strict observance of technological norms of production. Packaging, storage, transportation and temporary corrosion protection is made in accordance with GOST 18690−82. The timing of orders is minimal. The price depends on order volume and additional conditions of supply. For wholesale orders flexible system of discounts.