Carbide - tungsten electrodes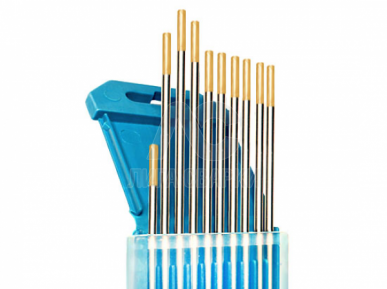 Characterization of carbide — tungsten electrodes
Tungsten carbide is a chemical compound of tungsten with carbon (monocarbide and semiarid tungsten). Tungsten carbide's hardness comparable to diamond. It has high wear resistance, oxidation resistance and extremely high melting point.
Scope
Today tungsten carbide is widely used in the manufacture of tools with corrosion resistance and exceptional hardness. It is used as a wear resistant surfacing parts operating under conditions of intensive abrasive wear in the manufacture of disks, drills, electrodes and milling cutters. Autogenous welding electrode SFTC G21-GF-55-CG, WSC (according to DIN 8555), filled with crushed and spherical fused tungsten carbide is used for surfacing unalloyed, low alloyed steels and for cutting edges of tools.
As electrical welding of the hard alloy to non-alloy or low-alloy steel, uses a special electrode, which is filled with spherical tungsten carbide WSC E21 UM-GF-60-CG. Electrodes of this type, as E21-UM-60-CGZ compressed and sintered is used for surfacing parts that are exposed to great wear by friction. Flexible autogenous welding electrode with crushed and melted tungsten carbide brand G21-UM-55-CG is used for hardfacing on ferritic and astenicheskiy bars, equipment for deep drilling, cast iron, screw conveyors, etc.
Types of electrodes of carbide-tungsten:
— filled NiCrBSi and crushed tungsten carbide in molten form, brands WSC G21-GF-55-CG;
— flexible molten globular electrodes SFTC G21-UM-55-CG, filled with spherical fused tungsten carbide;
— filled NiCrBSi and spherical fused tungsten carbide grades SFTC G21-GF-55-CG.
Manufacturer
Non-consumable tungsten electrodes are manufactured in accordance with GOST 23949−80. Melting carbide-tungsten electrodes are normalized according to GOST 21448−75. Electrodes of this type are of round section (diam. from 0.5 to 3x40 mm) and flat (4x2x40, 1,5x2x40, 1,5x3x40). The characteristics of carbide-tungsten electrodes and the technology of manufacturing such a composition provide high thermal stability and excellent operational durability.
Physical quality W
The temperature at which the obtained data the features of t°C
20°C
The linear thermal expansion coefficient α [1/Deg]
43x10-6
The density of the alloy [g/cm3]
19,3
Tensile strength tensile kg/mm2
35
Specific heat at 20 °C [kJ/(kg·deg)]
0,134
The thermal conductivity K [W/(m·K)]
300,173
Electrical resistivity R, Mhmm2/m
0,054
Buy at best price
Large assortment of tungsten carbide electrodes in stock LLC «AVEK global» can satisfy any consumer. The quality of the finished product is ensured absolute compliance with all technological norms of production. The order execution time is the shortest. If you have any questions, you will receive detailed advice from experienced managers. In the implementation of wholesale orders the company provides flexible system of discounts.