Stainless pipe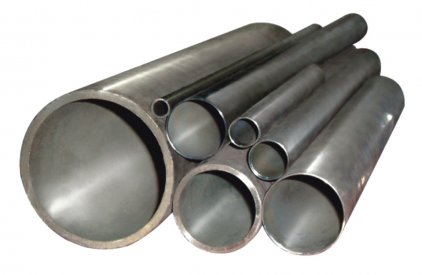 Relevance
Seamless steel pipe without any welds or joints along the length are produced by rolling, extrusion and drawing. They are today the most popular and the most popular are the pipe 12X18H10T. Why seamless pipe today so popular? No matter how skillfully and no high-tech was done the weld, to prevent its occurrence impossible, and if such piping circulating toxic fluid, the likely leaks should be completely avoided.
Dignity
The advantage of seamless pipes is their reliability and durability, versatility and aesthetics, high anti-corrosion and protective properties. This pipe is an absolute guarantee of unwanted leakage of domestic communications (heating, plumbing), as well as aggressive liquids in industrial enterprises. The use of stainless thin-walled and thick-walled tube allows you to vary between metal content and weight of the structure. Thin-walled stainless tube providing a lightweight design, are widely demanded, for example, in the furniture industry.
Disadvantages
The disadvantage of such tubes is the high cost. But, given their reliability and durability, this price is more than justified.
The use of different types of pipes
06HN28MDT
Seamless stainless steel 06HN28MDT indispensable in the production of industrial equipment and welded structures, which operate in sulfuric acid of any concentration (beyond 55%) in acetic and phosphoric acid. Pipe is designed for continuous operation in the petrochemical industry and the pulp and paper industry.
10Х23Н18
Heat-resistant and heat-resistant pipe of this brand are produced of high-alloy austenitic steel type and used in the manufacture of pendants, parts of combustion chambers, clamps and other fasteners fittings and boilers at a temperature not exceeding 1100 °C.
10X17H13M2T
Pipe of this brand resistant to the acids produced from austenitic steel. It is alloyed with chromium, molybdenum, titanium, Nickel. Consumption of this brand is about 70% of all produced stainless steels. Each of the alloying elements in the steel improves certain characteristics: Nickel — corrosion resistance and ductility, molybdenum and chromium increases the corrosion resistance and heat resistance, titanium increases the strength and wear resistance at high temperature. These pipes are easily welded without preheat and final heat treatment of the weld. They are widely used in medicine, chemical, food industry, thanks to its resistance to destructive corrosive environments. All of its properties, the pipe is able to maintain under high temperature (up to 600? C) for a long time. In comparison with other pipes, this pipe does not require additional costs for replacement, repair, and also has improved durability. Of seamless stainless pipes of this type are made of welded structures for metallurgy, petrochemical, shipbuilding.
12KH18N10T
Pipe 12X18H10T in its market segment is one of the most popular. This is evidenced by the advertising catalogues of many global companies that spetsializiruyutsya on the sale of metal. Letter labeling indicate the content in the alloy composition of chromium, Nickel and titanium. These pipes come with a welded seam or seamless. The choice of the pipe is dependent on the scope of the products. For example, the pipe is in the form of pillars designed to shroud the building, can be welded — it has an attractive aesthetics, durability, reliability and resistance to adverse environmental influences. 12X18H10T refers to austenitic steels and are designed for long term operation in gas and liquid aggressive environments: in metallurgy, petrochemical, chemical. industry and shipbuilding. From seamless pipes stainless steel is made muffles, heat exchangers, parts for metallurgical furnaces, as well as spark electrodes incendiary spark.
20H23N18
All sectors of transport, food and chemical industries, where from pipelines excellent corrosion resistance, need pipes of steel grade 20H23N18. Such pipe is often used for laying inside, outside (hot and cold water, heating) piping because they do not have any impact on water quality and its chemical composition. Also, they are widely used for buildings of various installations, pipelines and boilers. The main purpose of stainless pipe 20KH23N18 is the connection of pipeline sections and the regulation of flows of different environments. In addition, it is used in architecture and construction as a decorative design, as this pipe, aesthetically attractive and very resistant to corrosion and weathering. Pipe is designed for continuous operation in the petrochemical industry, the steel industry — everywhere where the required corrosion resistance and heat resistance, including in aggressive environments. Stainless seamless pipes are made of 20KH23N18 forgings, tyres, guide blades for long-term work at a temperature of 660−700°C, the details of the combustion chambers and other heating equipment, designed for thermal shocks of more than 1000 °C.
Grades of stainless seamless pipe
UNS
316Ti
321
06HN28MDT
310S
GOST
10X17H13M2T
12KH18N10T
904L
20H23N18
Classification of alloy
Steel high-alloy heat-resistant
high-temperature corrosion-resistant
corrosion-resistant
Ordinary steel corrosion-resistant
Chemical composition, in percent
C
≤ 0.1
≤ 0.08
≤ 0.06
≤ 0.2
Fe
basis
37 — 46.5
basis
Cu
≤ 0.3
≤ 0.3
2.5 — 3.5
-
Si
0.8
≤ 0.8
≤ 0.8
≤ 1
Ni
12−14
9 — 11
26 — 29
17−20
Mn
2
≤ 2
≤ 0.8
≤ 2
Cr
16−18
17 — 19
22 — 25
22−25
Ti
(5* 0.7)
(5* 0.7)
0.5 — 0.9
-
Other
Mo = 2 — 3
-
Mo = 2.5 — 3
-
The physical properties of the alloy at a temperature of 20°C
Material density, [kg/m3]
7950
7900
7960
7900
Hardness [MPa] HB 10−1
179
200
Weldability
Not limited.
Not limited.
weldability limited
Buy at best price
Stainless steel pipe is widely in demand in the metal market, thanks to a reasonable price and a large number of variations. Quality is guaranteed by strict observance of technological norms of production. Orders are implemented in the shortest possible time. If you have any questions You can ask for advice from experienced managers. Large range of stainless steel products in stock LLC «AVEK global» allows you to purchase all the necessary products in one place. For wholesale orders the company provides a substantial discount.