Titan according to GOST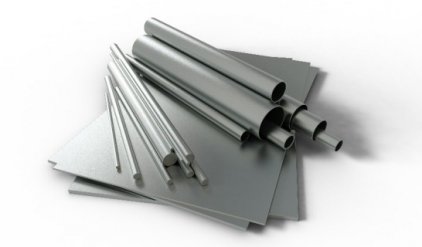 Chemical composition of titanium mill products.
Mark
Al
Ti
V
Zr
Sn
Mo
Mn
Fe
Si
Cr
O
C
N
Others
VT1−00
basis
0,15
0,08
0,1
0,05
0,04
0,1
VT1−2
basis
1,5
0,15
0,3
0,1
0,15
0,3
VT1−0
basis
0,3
0,1
0,2
0,1
0
0,3
VT3−1
5,5−7,0
basis
0,5
2.0 to 3.0
0,2−0,7
0,15−0,40
0,8−2,0
0,15
0,1
0,05
0,3
OT4−0
0,4−1,4
basis
0,3
Of 0.5−1.3
0,3
0,12
0,15
0,1
0,05
0,3
OT4
3.5 to 5.0
basis
0,3
0,8−2,0
0,3
0,12
0,15
0,1
0,05
0,3
OT4−1
1,5−2,5
basis
0,3
0,7−2,0
0,3
0,12
0,15
0,1
0,05
0,3
VT5−1
4.3−6,0
basis
1
0,3
2.0 to 3.0
0,3
0,12
0,15
0,1
0,05
0,3
VT5
4,5−6,2
basis
1,2
0,3
0,8
0,3
0,12
0,2
0,1
0,05
0,3
VT6
5,3−6,8
basis
3,5−5,3
0,3
0,6
0,1
0,2
0,1
0,05
0,3
VT8
5,8−7,0
basis
0,5
2,8−3,8
0,3
0,20−0,40
0,15
0,1
0,05
0,3
Vt6s
5,3−6,5
basis
3,5−4,5
0,3
0,25
0,15
0,15
0,1
0,04
0,3
VT9
5,8−7,0
basis
1,0−2,0
2,8−3,8
0,25
0,20−0,35
0,15
0,1
0,05
0,3
ВТ16
basis
VT14
3,5−6,3
basis
0,9−1,9
0
2,5−3,8
0,3
0,2
0,2
0,1
0,1
0,3
VT22
4,4−5,7
basis
4,0−5,5
0,3
4,0−5,5
0,5−1,5
0,15
0,5−1,5
0,18
0,1
0,05
0,3
VT20
5,5−7,0
basis
0,8−2,5
1,5−2,5
0,5−2,0
0,25
0,15
0,15
0,1
0,05
0,3
PT-1M
basis
PT-7M
1,8−2,5
basis
2.0 to 3.0
0,25
0,12
0,15
0,1
0,04
0,3
PT-3V
3,5−5,0
basis
1,2−2,5
0,3
0,25
0,12
0,15
0,1
0,04
0,3
2B
1,5−2,5
basis
1,0−2,0
0,2
0,1
0,12
0,7
0,04
0,3
5B
4,7−6,3
basis
1,0−1,9
0,1
0,7−2,0
0,25
0,12
0,13
0,06−0,14
0,04
0,3
3M
0,2−0,7
basis
3,5−5,0
0,3
0,2
0,1
0,15
0,1
0,04
0,3
14
3,5−5,6
basis
0,5−2,5
0,3
0,25
0,12
0,15
0,1
0,04
0,3
AT3
2,0−3,5
basis
0,20−0,40
0,2−0,5
0,15
0,1
0,05
0,3
40
1,5−3,5
basis
0,5−2,5
0,3
0,25
0,12
0,14
0,07
0,04
0,3
SP 17
5,1
basis
1,4
5,6
Titanium welding wire. Titanium wire. Chemical composition
Mark
Al
Ti
V
Zr
Sn
Mo
Mn
Fe
Si
Cr
O
C
N
H
Others
W-2 SV.
2.0 to 3.0
basis
0,15
0,1
0,12
0,05
0,04
0,003
0,3
W-6 SV.
3,5−4,5
basis
2,5−3,5
0,15
0,1
0,12
0,05
0,04
0,003
0,3
In T20−1 SV.
2.0 to 3.0
basis
0,5−1,5
1,0−2,0
0,5−1,5
0,15
0,1
0,12
0,05
0,04
0,003
0,3
VT20−2 SV.
3,5−4,5
basis
0,5−1,5
1,0−2,0
0,5−1,5
0,15
0,1
0,12
0,05
0,04
0,003
0,3
SPT-2 SV.
3,5−4,5
basis
2,5−3,5
1,0−2,0
0,15
0,1
0,12
0,05
0,04
0,003
0,3
Titanium shaped castings. Titanium cast alloys. Chemical composition
Al
Ti
V
Zr
Sn
Mo
Mn
Fe
Si
Cr
O
C
N
H
Others
ТЛ3
3,0−4,5
basis
0,15
0,25
0,12
0,15
0,1
0,04
0,006
0,5
ТЛ5
3,5−5,0
basis
1,5−2,5
0,25
0,15
0,15
0,1
0,04
0,008
0,5
Relevance
Demand for titanium is growing steadily with the development of the aerospace industry. In its strength it is not inferior to steel, besides, almost twice her easier. It has a high melting point, poor thermal conductivity and antifriction properties, but can be easily stamped and forged. The cost is quite high, this is mainly due to the complexity and energy intensity of extraction from the ore, but because of the winning combination of useful qualities without it today can not do without modern industry. On its merits it is superior to many alloys and metals, primarily in corrosion resistance. So it is often referred to as the eternal metal. Nowadays it is so popular that is second only to alloys of aluminium, magnesium and iron. Despite its high cost, this metal is cost-effective because it is extremely durable.
Application
Titanium alloys, titanium because of the high ratio of strength to weight are essential in aircraft and rocket construction, shipbuilding, as a structural material. The need for this material is increasing every year. Alloying further improves its properties. For example, oxygen and nitrogen increase its strength. The titanium in the form of alloying element improves corrosion resistance and strength of the products. Because it is lightweight, durable, resistant to aggressive media metal, it is indispensable in the chemical industry in the manufacture of pumps, reactors and pipelines. Due to biological inertness, titanium is widely used in medicine, prosthetics. Its alloy with Nickel (nitinol) has a shape memory that allows it to be used in the manufacture of stents in vascular surgery.
Buy at best price
The company «AVEK global» specializiruetsya on the sale of any metal alloys. The warehouse contains a large assortment of the highest quality titanium products:
tape;
sheet;
circle (wire);
pipe;
wire.
All titanium products are certified. Technical documentation includes all the data on limiting the percentage of impurities; chemical composition, mechanical properties of products. Titanium products are to be free from defects ultrasonic testing. Implementation of orders is carried out in a short time. Wholesale buyers are offered preferential discounts.