Brass mesh woven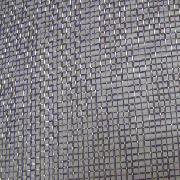 Relevance
Brass woven mesh is widely used not only in the production sphere, but also in households for straining liquids and loose substances. Manufacture is made in accordance with GOST, which regulates the use of wire from a non-ferrous metal alloy.
• Filtration of gases, liquids, granular substances;
• Separation by size of seeds whole or crushed;
• Control the size of a variety of particles that are obtained by crushing materials.
Accuracy classification
• Normal accuracy, which is designated as «H»;
• High accuracy, referred to as «B»;
• Control, designated as «K».
Brass mesh has all the positive qualities of the material from which it is made. That's why often it is used as an element of decor, because from afar it is difficult to consider what it hides. But at the same time it perfectly passes air.
Production
It is made by the way of weaving wires of warp and weft, which are located across the cross-section. The cell has the shape of a square. The dimensions of the woven mesh are determined depending on the side of the cell — a, the diameter of the wire — d. The cross-section of the grid can be calculated independently using the following formula: F = (a2 / (a + d) 2) x 100%
The width of the cell: 0,071 — 2,5 mm — twill twine, linen width of 1000−1300 mm. The width of the cell is 0.16 — 2.8 mm — a mesh of medium size: weave, width up to 4000 mm. Weaving of linen 1000 — 2000 mm in width without filter cells
Application
• sifting and separation of bulk materials;
• filtration of air, gaseous and liquid substances;
• sorting of crushed substances;
• straining of solutions;
• production of filters;
• Drying of materials;
• purification of air, dispersion of sand;
• dehydration;
• percolating under pressure;
• washing of mud at oil extraction;
• purification of clay emulsion in petroleum petroleum for the purpose of concentrating manganese ores.
Among the advantages we note the corrosion resistance under normal conditions. That is why this grid can be operated for a long period of time, taking into account the preservation of the original properties. Another advantage is the resistance to high temperatures.
Buy at a bargain price
LLC «Avek Global» offers the most favorable terms of delivery. In the warehouse of the company is represented the widest assortment of woven nets. Here you will find exactly what you need. A personal manager will help you make the right choice, answer all questions and find a mutually beneficial solution. Becoming our customer, you will get an opportunity to save money and precious time, as our products can be purchased at a very favorable price. By carrying out bulk orders, you can count on the company's flexible discount system. The lead time for orders is minimal. All goods are certified. Quality is guaranteed by strict observance of all technological norms of production.