Titanium wire in a large range of stock LLC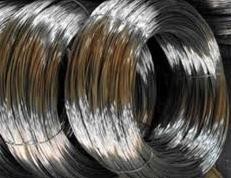 Value
Titanium wire has exceptional corrosion resistance — in contact with sea water, alkali, hot saline, nitric acid in an atmosphere of chlorine, sulfur and industrial gases. With organic acids, it does not react at t ° to 100 ° C, including with «ice» concentrated acetic acid and acetic anhydride. It is quite easy is treated has a low thermal conductivity, easy weldability. Its ductility is almost identical copper wire, and low creep — such as a stainless steel. Useful properties are fully maintained by the action of extreme temperatures from -250 to +500 ° C. In air at t ° 500−550 ° C at the surface to form a protective oxide-nitride solid film. The high specific strength, heat resistance, light weight corrosion resistance make this wire is indispensable in shipbuilding, automotive, and especially in rocketry and aviation, where the weight of the components is crucial. Biological inertness, and a rare property as a «shape memory» make it popular in medicine.
Limitations
They can be ranked high cost and complexity of manufacture. However, given the exceptional properties, reliability, longevity, all the production costs are guaranteed to pay off.
Production
Wire — semi-finished non-standard length of small diameter made from grades 1 BT-00sv, 2B, 2CB BT, PT-7Msv FROM 4 1Saint FROM 4sv FROM 4 1Saint, BT-20 1Saint, SPT-2, W 6SV, VT 20−2CB in degassed state and pickled. Made by a cold, and hot-drawn according to GOST 27265−87 and 19807−74 (chemical composition). After the completion of the manufacturing operations area should be bright, clean, free places neprotravov, dark spots. Undulation associated with the annealing of the bay is not a sign of marriage. Marking informed about the developer (for example, alloys PT, developed CRI «Prometheus» alloys — VT developed VIAM-titanium).
Application
Ease, reliability, titanium wire makes it indispensable in the construction of submarines, jet modern technology. It is widely used in industrial chemistry, due to its high acid resistance, corrosion resistance, and in the healthcare industry — thanks to the biological inertness. From it are made in dentistry dental briquettes, and orthopedics — screws, pins, clamps for connecting the broken bones. It is also used in vascular surgery for the manufacture of stents designed for expansion vessels, due to the unique quality — shape memory. Using a special probe is carried out by the affected artery blood flow is triggered by electrical discharge, after which it curling up in a spring-loaded, decompress the artery wall.
Diameter in mm
Unit
Price.
Wire BT1−00 and VT1−00sv
1
kg
Negotiable
2
kg
— «-
3
kg
— «-
4
kg
— «-
5
kg
— «-
6
kg
— «-
Wire brand OT4
7
kg
— «-
Wire brand OT4−1
1
kg
— «-
1.5
kg
— «-
4
kg
— «-
5
kg
— «-
Buy at a bargain price
The company «Avek Global» specializes in the sale of any metal alloys. We offer products from warehouses in Russia and Ukraine, with delivery to any region of the CIS and abroad. Our experts will pack, complement and mark your purchase and will make sure the delivery of the specified address. All products are certified and available. Price depends on order quantity and other conditions. Deliveries are carried out in the shortest possible time. For bulk purchases have discounts available.