Circle 68NHVKTYU - EP578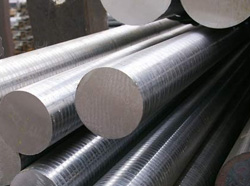 Manufacturing of a circle, rod 68НХВКТЮ-ВИ is carried out in an open arc furnace. Rolling is carried out — at the beginning of the process — at a temperature of 1100 ° C, and at its completion — 800 ° C. The alloy should be cooled after deformation. In the first mode, cooling is carried out in water, air, in oil, In the second case, cooling is carried out with the help of water with further exposure of the manufactured products for 4.5 hours.
Chemical composition of the circle 68NHVKTYU-VI, in percent.
Si
C
Fe
Mn
P
S
Ni
Cr
V
W
Ce
Co
Al
Ti
Nb
-
B
Cu
Up to 0.4
Up to 0.05
Up to 1
Up to 0.4
Up to 0.015
Up to 0.01
55.402 — 63.5
18 — 20
Up to 0.2
9 — 10.5
Up to 0.05
5.5 — 6.7
1.3 — 1.8
2.7 — 3.2
Up to 0.2
B, Ce — calculation
Up to 0.003
Up to 0.07
Weldability of a circle
-Welding is carried out without subsequent heat treatment and without heating — without restrictions;
-Welding is possible when heated to 100−120 ° C. And further heat treatment — boundedly welded;
-to obtain a quality welded joint, additional operations are required: heating to a temperature of 200−300 ° C. In the process of welding, heat treatment, at the end of welding — annealing — difficult to weld.
Precision high-temperature alloys are widely used in the manufacture of a variety of semi-finished products. The most popular of them are a circle, pipes, rod. Such types of rolled metal are used in the power engineering industry (production of equipment and machinery for power engineering), in aviation, rocket and space technology.
The index of heat resistance is the ability of the alloy to withstand, at the highest possible temperatures, various mechanical stresses over a period of time. When the temperature of the alloy is less than 600 ° C, the term «heat-resistant» is used, and at a higher temperature (600 ° C) the heat-resistant material can withstand stresses that cause deformation, not leading to destruction. From the alloy mark 68НХВКТЮ-ВИ make exhaust pipes for cars, they are used in the laying of the electric cable.
Apply a circle
Products from 68НХВКТЮ-ВИ are in demand in water supply systems, sewer systems. To create a home cosiness, heat, pipes from this alloy are used for chimneys in installed fireplaces.
Circle 68НХВКТЮ-ВИ is designed for operation at a temperature of 1050 ° C. From it, transitions are made, fittings for laying pipes. In this case, the seams should have the same requirements for heat resistance, heat resistance, which depend on the choice of welding materials, the steel used, the presence of heat treatment at the end of the process and the welding regimes.
The circle is a metal product with a circle shape. It is used for reinforcement, in the manufacture of various types of fasteners, as well as for metallic stainless constructions. Circle 68NHVKTYU-VI is produced by hot-rolled method and by means of calibration, used to impart an external precise diameter to products.
Buy at a bargain price
The assortment of a circle, a rod of 68NHVKTYU-VI alloy, presented in the warehouse of «Avek Global» LLC can satisfy almost any consumer. This circle, rod is a popular type of metal products, due to its low price, as well as a large number of manufacturing options. The quality of products is guaranteed by compliance with all production technological standards.