Copper fittings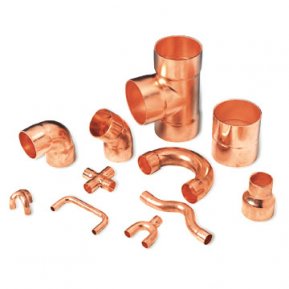 Relevance
Copper fittings are connecting to valves for piping systems. Ensure a reliable connection of pipes among themselves or with other fragments of the system. There are the following types of copper fittings: couplings, elbows, connecting transitions, tees.
Production
Copper fittings are made by welding of the strip, as well as hot and cold deformation of ingots. Use the following marks: M1, M2, MZ, having a chemical composition according to GOST 859−2001. Production normalized following GOST Russian: 52922−2008 for capillary solder fittings under; 52948−2008 — for fittings that perform the connection of pipes by way of extrusion. End, the inner and outer surfaces should be clean, bright, metallic Shine, be free of burrs, pits, sharp edges, cracks and delamination.
Transitions are the elements intended for joining pipes of different diameters. Concentric reducers are in the shape of a truncated cone, and eccentric — have a cross section in the form of a rectangular trapezoid. Depending on the method of production they are divided into stamped and welded.
Tees for soldering. Their form: odnoralova, trehrazdelna, threshold and equal diameter. Materials: brand copper M1, Ø 6 to 108 mm.
Copper bends. Have dvuhmetrovoy or odnofanturnoy form. The bending angle can be: 180°, 90°, 45°. Materials: grade M1, M2, MZ, Ø 6 to 108 mm.
Application
Copper fittings used in water supply systems — hot or cold, gas, steam heating, wastewater treatment plants, sewers. They are highly demanded in construction, engineering and utilities. Tees provide any branching of the pipeline. It should be noted that transition tees — different diameters of the through holes of the housing and the cap, and equal diameter are the same. A high level of pressure and dynamic loads impose an increased requirement for the level of reliability of connections, which fully provides copper fittings.
Buy at best price
In stock LLC «AVEK global» unlimited range of products from non-ferrous metals at the best prices. We offer the choice will satisfy any customer. Buy any kinds of brass fittings can be using the Internet-the company website or by contacting our office. The quality of the products is guaranteed by strict observance of technological norms of production. The timing of orders is minimal. The price level depends on the order quantity and other conditions of supply. For wholesale orders flexible system of discounts.