12X13 - 1.4006 - aisi 410 pipe, wire, circle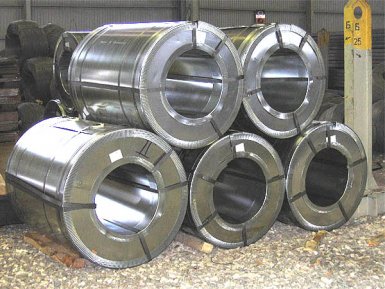 General characteristics
12X13 steel martensitic-ferritic heat-resistant, heat-resistant and corrosion-resistant. It is composed of carbon and 0.12%, as alloying elements — chrome-12−14%, silicon, manganese, Nickel. The purpose of steel — the details of increased plasticity, can withstand vibration and shock loading at t° up to 450−500°C and at normal temperatures contact with slightly aggressive environments. Is strip, sheet, round, wire, tube. The doping increases the heat resistance and enables to produce the steel parts to the power type. This brand has a relatively balanced performance of heat resistance and heat resistance, making it very popular. When choosing heat-resistant steel, if not burdened working conditions, it is possible to change this brand to another, with lower carbon content. Substitute this steel is brand 20X13.
The alloy's chemical composition GOST 5632−72
Mark
C
Si
Cr
Cu
Mn
Ni
Ti
S
P
Fe
12X13
0,09−0,15
0,8
12−14
to 0.3
0,45−0,6
to 0.6
to 0.2
0,025
0,03
the rest
Relevance
The use of martensitic-ferritic steels depends on the operating conditions. Ferritic able to withstand prolonged heating to t° to 600 °C. Their klassificeret as heat resistant alloys. When the temperature rises over 600 °C are used austenitic heat-resistant steel. In accordance with GOST, intensive scale formation in air starts at a temperature of more than 1050 °C.
Production
Rod 12H13 quenched at 1050−1150°C in air. This alloy is weldable is limited. Welding method: submerged arc ADS, RDS, CBS, ARDS. Heat and a final heat treatment is used, depending on the method and type of welding and the appointment of a welded design. Made of seamless pipe — seamless or welded — welded. Depending on the type of surface of the pipes, they may be referred to in catalogs as mirror (polished), polished or matte. Circle of steel 12X13 manufactured using metal stamping under a predetermined shape. They can be used in the form of forgings, ie intermediate preform for different products.
Buy at best price
Large assortment of rolled alloys 12X13 in stock LLC «AVEK global» can satisfy any consumer. The quality of the finished product is ensured absolute compliance with all technological norms of production. The timing of orders is minimal. If you have any questions, you will receive detailed advice from experienced managers. For wholesale orders the company provides discounts.