Wire, round, rod - CuSn10Zn - C90500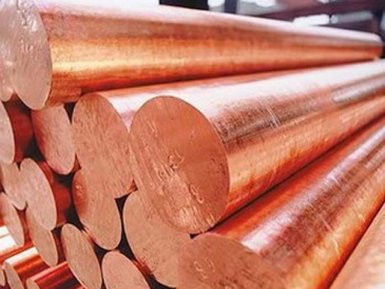 Supplier — AvekGlob company — offers at reasonable prices from the manufacturer bars, circle or wire made of bronze C90500 (CuSn10Zn). The supplier guarantees the timely delivery of products to any address specified by the consumer.
Technical specifications
Bronze brand C90500 (name according to the specification DIN EN — alloy CuSn10Zn) is a high-tin bronze, which contains an increased percentage of zinc. The alloy is suitable for efficient use in gears, high-strength bushing and bearing systems, where high strength, low speeds and high loads are present. Bronze grade C90500 (CuSn10Zn) is available for use in the form of rolled semi-finished products and castings. Bronze castings from the alloy in question are used in mobile components of bridges (turntables), as well as other similar structures, for fixed and expanding bearings with slow or intermittent motion, which is accompanied by heavy loads.
Urgency of application
Most often, products from the alloy C90500 (CuSn10Zn) are used in construction (manufacturing of heavy construction equipment, in electrical installations (contact connectors), steam-energy devices (fittings), in terminal and nut fasteners, as well as in general machine-building applications (yokes, bushings, bearings, piston rings, pump housings, sealing rings, worm gears, expansion bearings, pump impellers, valve bodies, gears, gears crowns, finishing matrices for cellulite The off-and-paper industry, etc.).
Chemical composition
In accordance with the ASTM B505 standard, this bronze contains the following elements (numerical data — in percentages):
| | | | | | | | | | | |
| --- | --- | --- | --- | --- | --- | --- | --- | --- | --- | --- |
| Fe | Si | Ni | P | S | Al | Cu | Pb | Zn | Sb | Sn |
| Not more than 0.2 | Not more than 0.005 | Not more than 1 | Not more than 1.5 | Not more than 0.05 | Not more than 0.005 | Rest | Not more than 0,3 | 1−3 | Not more than 0.20 | 9 — 11 |
Notes. 1. Copper of chemical purity is used not less than 99.7%, while in copper, a partial content of nickel is allowed. 2. Nickel may contain traces of cobalt.
Physical and mechanical properties
Density, kg / m 3 — 8720;
Melting point, 0 С — 855… 1000;
Specific heat at room temperature, J / kggrad — 377.2;
Coefficient of thermal conductivity at room temperature, W / mgrad — 74.8;
Coefficient of thermal expansion at room temperature, μm / deg -19.8;
The limit of time resistance, MPa -303;
Modulus of elasticity, GPa — 103.4;
Yield strength, MPa — 172;
Relative elongation at tension,% — 8.
Assortment and application features
Bronze grade C90500 (CuSn7Zn) is supplied in a wide range of cross sections and lengths. The machinability of the alloy is reduced, the ability to solder and weld — without restrictions. The alloy is not recommended for use at temperatures exceeding 250… 260 0 С.
Supplier — AvekGlob Company — offers to purchase bar, round or wire from bronze of C90500 (CuSn7Zn) in a wide assortment of brands and sizes. Products can be bought at a price formed on the basis of European and world standards of production. Implementation is possible in bulk and retail, for regular customers, a flexible system of discounts operates.