Plate aluminum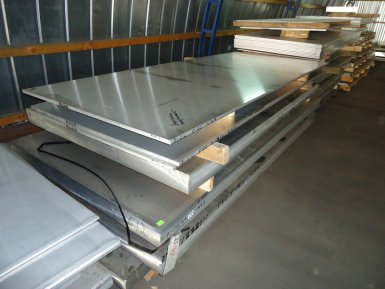 Karel čapek once said that the future enters our time parts.
Dignity
Aluminum plate is durable and strong. It is easily mounted and subjected to any mechanical treatment, such as, welding, drilling, cutting. Designs and details of any configuration can be made from aluminum plate. It is resistant to corrosion, lightweight, has aesthetic appeal, conforms to strict sanitary standards. She also has an excellent thermostatic effect, in connection with what to tolerate large temperature changes and is used in aviation, even in the Extreme conditions of the Arctic.
Marking
Quality
Feature
Marking
Plating
without plating
clad is fine
And
clad technologically
B
The condition of the material
hot-pressed, without heat treatment
naturally aged, hardened
T
artificially aged, hardened
T1
The degree of finish
normal
high
In
increased
P
Production
The production of aluminum slabs is done by forging, stamping, pressing according to GOST 17232 of aluminum alloys.
Name
Mark
GOST
Cutting
Aluminum plate

D20, Д16БТ, Д16Б, Д16АТ D16, V95, AMC,

АМг6Б, AMg6, AMg5, Amg3, Amg2, AK4−1чт,

AK4−1, AD1, AD0, A5, 1561Б, A6, A7

17232

10,0−200,0x1200-

1500x2000−8000
Application
Aluminum plates are very popular in the manufacture of various designs. The demand for them is constantly increasing, especially in the field of construction, for example for the production of decorative elements of interior and exterior. In the food industry, electrical engineering, energy, they are irreplaceable. Aluminum plate in mechanical engineering used in the creation of stands, skins, etc., in aviation they are popular in the manufacture of control elements, flat parts, pieces of fuselage, etc.
Buy at best price
Sales of aluminum rolling is carried out by the company «AVEK global» in optimally favorable conditions. At the company's warehouse you can find a large selection of different types of aluminum plates. At the request of the customer the company carries out cutting and processing. In accordance with GOST 24231−80 controlled chemical substances. GOST 9.510−93 reglamentary temporary corrosion protection, transport, packaging and storage. Quality guarantee is strict compliance with technology and production standards. All deliveries are made on time. A flexible system of discounts is available for bulk orders.