Plate bronze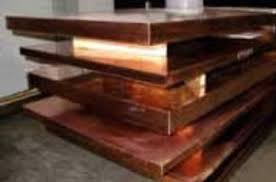 Dignity
Bronze plate combines a high level of strength with elasticity, plasticity, ductility. The bronze plate can be handled in any mechanical processing including cutting, stamping, drilling, it is resistant to corrosion, to the action of atmospheric moisture and sea water. Extremely durable and resistant to corrosion plate, made of beryllium bronze Brb2 brands (0.2 to 0.5 percent Nickel and up to percent beryllium), its advantages can be also improved by additional heat treatment.
Stove bronze is non-magnetic, however, it is perfectly conducts heat and electric current. Reliability, a high level of durability, combined with its relatively low price makes bronze plate in demand in many sectors of the economy.
| Grade of bronze | Hardness HB 10-1 | t° melting point (°C) | σв (MPa) |
| --- | --- | --- | --- |
| Brof6,5−0,15 | 70−90 MPa | 995° | 400−800 |
| Broc4−3 | 150−170 MPa | 1045° | 430−880 |
| PCMC 3−1 | 70−150 MPa | 1030° | 350−760 |
| Brb2 | 130−150 MPa | 995° | 400−950 |
Note. The range σ (MPa) is given for soft/hard alloy.
The production of the bronze plate
Simply put, the bronze plate is prefabricated having a rectangular shape with a thickness greater than 25 mm. Manufactured by molding according to GOST 18175 and the 48−21−779−85 of different alloys, most often used are alloys of зБрХ1, ÌÍ2, 5КоКрХ, Áðõ1öð.
| view | Tu | marking | dimensions |
| --- | --- | --- | --- |
| Plate bronze | 48−21−779−85 | Brh1, ÌÍ2,5КоКрХ, Áðõ1öð. | 3O-150Х600−3000Х6ОО-4000 |
Marking bronze plates
· PR — rectangular cross-section ;
· D — hot rolled;
· X — without indication of the accuracy of the production and/or delivery status;
Application
From bronze plates produce a variety of engine components, including shafts, gears, guides, slides, wedges — in the field of mechanical engineering in aircraft and automotive industry. In the ship building industry used for the production of propellers, shafts, rudders. In the field of electrical engineering for the production of contact strips, connectors, generators and transformers, non-magnetic fittings and some parts of devices. In the construction industry for decorative finishes interior and exterior. Slab of bronze alloy of chromium is usually used for casting titanium and other alloys. It is very popular in engraving works and art casting.
Supply
Plate thickness up to 40 mm with a length in the limit of 2500 — 4000 mm and a width not exceeding 2500 mm, (and tolerances on width and length +40 mm), their supply cut off. The bronze plate with the thickness more than 40 mm, bet uncut, margins, technological width (75 mm) and length (150 mm).
Buy at best price
Huge selection of bronze sheet in stock company «AVEK global» can satisfy any consumer. The quality we guarantee full compliance with the technology and exposure standards of production. We offer the shortest lead times. For wholesale orders you will be offered a flexible system of discounts.