Lc40s - CuZn37AI1 -C85800 rod, tape, wire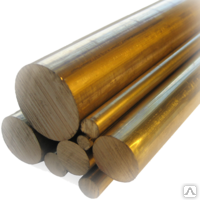 General characteristics
The brass is called the dual and multicomponent copper alloys in which the major alloying element is the zinc. Simple double brass consists of zinc and copper:
-poluting, has a Zn content of more than 10%;
-tombac, has a content of Zn to 10%;
-cartridge brass, has a Zn content of ≈30%.
Special multi-component brass in addition to zinc, with the aim of improving the properties include up to 3% of alloying components, such as tin, aluminum, silicon, manganese, iron, lead, Nickel and several others. Accordingly, they are called brass aluminum, zhelezomargantsevye, tin, etc.
Depending on the production and use of all the brass are divided into deformable and casting. The first easy machining: stamping, forging, embossing and other processing methods with pressure. Brass casting is typically used for the production method of shaped casting.
Brass Lc40s
The main components
Al%
Fe%
Ni%
Sn% Mn%
Si
Zn
57−61%
35−42%
up to 0.5%
to 0.8%
up to 1%
0.5%
Dignity
Brass grade Lc40s and Lc40sd are classified as metals with a pronounced anti-friction qualities. Additionally, the brass stamps Lc40s have a great level of fluidity in the case of exposure to high temperatures, which in turn enables to obtain the casting of the highest quality. Quite insignificant tendency to the process of liquation, which has a brand Lc40sd, allows its use as raw material for complex metal products.
Marking
Currently accepted alphanumeric marking to denote brass, in which letters indicate the principal alloying constituent alloy, and the figures denotes their approximate content in%.
Marking brass starts with letters «L» that is stands for brass. In brass with double digit after the letter L indicates average copper content. Brass multi-component, in addition to zinc and copper, contain one or more alloying elements. These elements have the following markings: W-iron,-tin, And-aluminum, MC-manganese, silicon, lead, Nickel, Msh-arsenic.
In cast and wrought brass the order of the numbers and letters are different:
— In the marking of wrought brass the first number after the letters indicates the average content of copper, and all subsequent numbers, which are separated from each other with dashes represent the average content of alloying elements (example: LS59−1; ЛАЖ6О-1−1 etc).
— Marking of cast brass, the zinc is indicated by the letters «TS». It should be noted that the average content of components in the alloy is placed immediately after the letter which indicates its name, but the copper content in this case is not specified (example: ЛЦ4ОС; LC25S2 etc)
Brass pig has only alphabetic characters (example: BOS; LOS; LA, etc.).
Buy at best price
To see more details with the products, to clarify its basic qualities, place your order, you can through the website of our company LLC «AVEK global», which specializiruetsya on the supply of non-ferrous alloys. We offer products from warehouses in Ukraine and Russia with delivery to any region of the CIS. All products are certified. The timing of orders is minimal. For any questions, you are always ready to advise experienced managers. For wholesale orders there is a reduced discount.