Nipple with external thread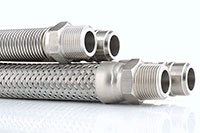 general characteristics
The ST040 metal sleeve has an external threaded nipple, is a stainless bellows hose in stainless steel one- or two-layer braiding. Used to connect pipelines. It consists of a corrugated hose with a steel reinforcing braid, on the ends of which there is a final armature with external thread, which makes it possible to perform reliable sealing.
Production
A corrugated stainless steel AISI 304, AISI 321 is used. It is produced from a welded or seamless pipe with a thickness of 0.1 — 0.5 mm by the method of external running-in. There is an outer steel one- or two-layer reinforcing braid. Connecting threaded fitting nipple is made of steel СТ.20. The range Ø 6 — 300 mm, the length can be from 250 to 6000 mm. The assortment of finished products meets the standard requirements.
Using
The main purpose of MPVD is transportation of water, steam, condensate, gas, oil products and products of technological processes at temperature drops from -270 to +600 ° C and operating pressures from a deep vacuum to 350 Bar. Applied in almost all modern industrial industries. Such sleeve with external thread compensates for thermal and axial expansion, absorb vibration. High resistance to corrosion, plasticity, flexibility guarantee the tightness of joints.
Installation
Has no special difficulties. It is necessary to determine the optimum required length of the hose, where it is necessary to include the length of the threaded connection and the value of the neutral section. The service life depends on the number of working negative factors, which consist of load temperature cycles, pressure fluctuation amplitudes, vibration effects. No less important is the effect of corrosion, the negative impact of the bend radius.
Buy at a bargain price
LLC «Avek Global» offers the most favorable conditions for the sale of rolled metal. The proposed range of nipples with external thread can satisfy any customer. The price depends on the volume of purchase and the additional terms of delivery. By carrying out bulk orders, you can count on the company's flexible discount system. Our managers are always ready to provide advice. A large assortment will not leave you without a choice. The lead time for orders is minimal. All products are certified. Quality is guaranteed by strict observance of all technological norms of production.