Monel 400® is a 2.4360 pipe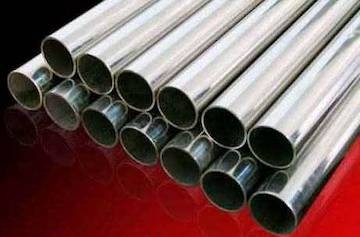 Alloy Monel copper-Nickel-based patented in 1906 in England. It received its name in honor of Abrase Manila, who is President of the company «International Nickel Co». Monel difficult treatable, it requires high temperatures of tempering. It has a high resistance to corrosion, high tensile strength, ductility. Monel is a unique structural material. Besides Nickel and copper, it is composed of additives of titanium and aluminum to keep corrosion resistance and strength in a wide temperature range.
General characteristics
A tube of Monel 400 can also known as tube alloy Nicorros, since it has a high resistance to corrosion. The chemical composition of the alloy: in addition to contains a Nickel — copper — 28−34%, iron-1−2.5%, manganese up to 2%. Monel has such features like high corrosion resistance to many chemical environments and at higher temperatures up to 550 °C — retains mechanical strength. Alloy welded tungsten non-consumable electrodes, and then processed under pressure. Products manufactured from Monel 400 and Nmzhmts 28−2,5−1,5 and their analogues are very popular in almost all spheres of activities because they have resistance in a saturated salt sea water, hydrofluoric acid and various of concentrated alkali (in addition to NH4 OH. It is not recommended to use alloy Nmzhmts 28−2,5−1,5 for products that operate at temperatures above 375 °C in acid solutions enriched air and in sour environments.
Percentage composition
Mn
C
Si
S
P
Cr
Cu
Mo
Ni
Co
Ti
Cb+Ta
Fe
Al
2,0
0,3
0,5
0,024
28−34
not less than 63,0
to 2.5
Application
Tubes made from Monel 400 and Nmzhmts 28−2,5−1,5 and their analogues correspond fully to the standard for pipe rolling. Products of this alloy are not deformed by fire in oxygen-rich environment and do not have magnetic properties. Pipe from Manila used in shipbuilding, chemical and oil industry, pharmaceutical production and manufacture of various components which are subject to corrosion, as Monel is capable to protect from rust. Alloy Monel manufacture equipment for the oil refining and pharmaceutical industries, pumps, intended for the abstraction of mine water. The Monel can also be used in architecture for decoration, in the form of construction material, to enter also into the composition of the bimetals to be imposed on the surface by means of thermal spraying.
Buy at best price
Large assortment of Nickel-based alloys in stock LLC «AVEK global» can satisfy any consumer. The quality of the finished product is ensured absolute compliance with all technological norms of production. The order execution time is the shortest. If you have any questions, you will receive detailed advice from experienced managers. For wholesale orders the company provides flexible system of discounts.