Wire, round, aluminum rod, 6061 - 3.3214, AlMg1SiCu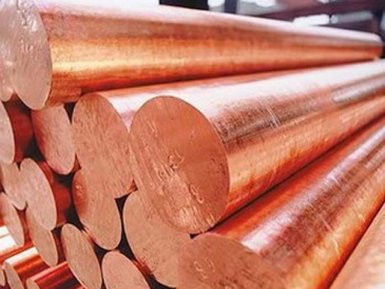 Technical specifications

This is one of the high-strength aluminum alloys (more durable than alloys 1100 and 3003). The alloy 5083 has excellent characteristics of high fatigue strength. It has excellent corrosion resistance, especially in the marine environment and is therefore widely used in shipbuilding
Percent composition

| | | | | | | | |
| --- | --- | --- | --- | --- | --- | --- | --- |
| Al | Cr | Cu | Fe | Mg | Si | Zn | Impurities |
| basis | 0.04−0.35 | 0.15−0.40 | ≤0.7 | 0.8−1.2 | 0.40−0.8 | ≤0.25 | ≤0.15 |
Mechanical properties (temperature 20 ° C)

sv — The short-term strength limit is 290−310 MPa (42,000 — 45,000 psi)
sT — Limit of proportionality (yield strength for permanent deformation) 240−270 MPa (35.000 — 39.000.found square inch)
d5 — Relative elongation at break of 8−10%.
l — Coefficient of thermal conductivity (heat capacity of the material) at 25 ° C (77 ° F) = 152 W / mK.
The leaf fatigue limit at a cyclic load of 97 MPa (14,000 psi) for 500,000,000 fully reverse cycles using the standard RR Moore test machine.
Buy

Supplier Avlob offers wire, rod, circle of the brand AlMg1SiCu, 6061, 3.3214 at an economical price. The supplier guarantees the timely delivery of products to any specified address. Regular customers can take advantage of discount discounts. We invite you to partner cooperation. The price is the best in this segment of rental.
Delivery, price
Buy wire, rod, circle brand AlMg1SiCu, 6061, 3.3214 at an affordable price from the supplier Avlob today. The price is formed on the basis of European production standards. Supplier Avlob offers to buy aluminum wire, rod, circle AlMg1SiCu, 6061, 3.3214 or any other brand at the optimal price in bulk or at retail.