Circle, rod 20KH23N18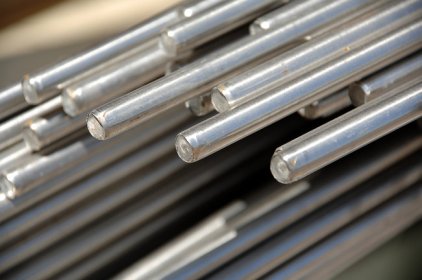 Composition
Chemical composition of heat-resistant steel rod marks 20H23N18 regulated by GOST 5632−72. In its composition contains chromium — 22−25% Nickel — 12−15% molybdenum — 0.35 to 0.55% of manganese and 0.2% carbon — 0.2%, silicon — 1%, additives of phosphorus and sulfur — hundredths of a percent. The balance is iron. The doping increases the technological properties of the rod: the heat resistance and heat resistance, ability to withstand aggressive environments.
Production
This steel is smelted in open electric arc furnaces, which ensures a minimum content of unwanted impurities. The rod is rolled at a temperature of 1150−1180°C at the beginning of the process and at 850 °C at the end. If necessary, it is subjected to quenching at t º about 1100ºС with further cooling in water or air. This heat treatment promotes the normalization of internal stresses and to increase the strength characteristics.
20H23N18 calibrated rod is made according to the following GOST: 7417−75, 8560−78 and 8559−75. The silverfish and polished bars — according to GOST 14955−77, forged blanks and forgings in accordance with GOST 1133−71. The circle is made by stamping, cold or hot deformation under specified size. Hot stamping is the most simple and cheap method is less energy intensive, because of the deformation of hot metal is required much less effort. In the production of punched, at the same time, several surfaces, resulting in a circle turns smooth, its surface is uniform and sizes are observed in full compliance with the requirements of the customer. Processing of multiple surfaces best economically possible to produce blanks of various sections, due to the stamp with the specified size.
Welding
Available with manual, automatic welding with flux and as the protective gas. In the process of manual electric arc welding using electrodes OzL-37−2, OzL-17U with wire rod St-03ХН25МДГ SV-ОЗХН25МДГБ. This type of filler material is also used for automatic arc and TIG welding. As a recommended brand of flux an-18.
Classification of circle 20H23N18.
According to the method of production
Length
Accuracy

— calibrated

— HR.

— dimensional,

— dimensional,

— simple dimensional

— elevated,

— high

— the usual
From the scope of the circle depends on its parameters, therefore, the range typically produce the order. Finished product diameter is from 5 to 400 mm and a length of from 4 to 10 m. For a circle with a diameter of 200−250 mm the process of rolling and further raskopki to the desired section.
Application
Nowadays, stainless alloys are the most popular material. The circle marks 20H23N18 widely used for mounting various kinds of welded structures in the manufacture of heat exchangers, reactors, operated in a particularly corrosive solutions and formulations, as well as at elevated temperatures. From the circle of steel 20H23N18 produce shafts of engines, support washers and rollers, axles, working under high concentration of loads in places where there is a load of special complexity: shock, vibration, etc. This circle is essential in the production of fittings, welded structures operating in a radioactive environment. The circle marks 20H23N18 reliable, durable and long lasting. It can also be used as an intermediate forgings for various products.
Buy at best price
The company «AVEK global» supplies metal products at the best prices. Offer advantageous conditions of acquisition of products from stainless alloy 20H23N18 for wholesale and retail buyers. Products are manufactured based on the requirements of GOST and certified. The certificate is marked manufacturer, brand alloy mechanical properties of the parts, the chemical composition and the results of additional tests, delivery times are minimal. For wholesale orders there is a reduced discount.