Sheet HN77TYUR - Ei437bu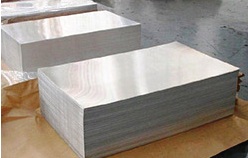 Stainless steel sheet heat resistant alloy HN77TYUR with Nickel basis is a multifunctional material with unique capabilities. Its surface is not subject to oxidation during long-term operation and high temperature. The quality of the sheet allow you to apply all the modern technology of metal: grinding, cutting, polishing.
The chemical composition of the alloy, in percent.
Ni
Ti
Cr
Al
Si
Fe
Mn
Ce
With
P
Pb
B
S
70 — 77,4
2.4 to 2.8
19−22
06−1,0
to 0.6
to 1
to 0.4
0,02
0,07
0,015
0,01
0,01
0,007
Production
The alloy is melted in open electric furnaces, which ensures a minimum content of impurities. Percentage composition is regulated by GOST 5632−72. Flat rolled comes in the form of hot rolled and cold rolled sheets and strips of thickness 0.5 to 12 mm. in the manufacture of the sheet may be differences in the degree of traction, precision rolling, variety of surface treatment, sizes cutting, edge. A large range of sizes produced sheets can facilitate the selection of more appropriate blanks for details. At increased requirements to the material is hardening the strip at a temperature of about 1100 °C with subsequent cooling in water or air. Aging occurs at a temperature of 700 — 750 °C for 5−16 hours depending on the thickness of the tape. This heat treatment promotes the normalization of internal stresses in the alloy and increasing the strength.
Quality sheet brand HN77TYUR at t° 20°C:
— The ultimate short-term strength = 950 MPa;
— yield strength of 620 MPa.;
max. elongation at break — 20%;
— max. contraction is no higher than 15%;
— hardness after hardening Brinell — 255 — 321 MPa.
Mechanical properties at t°100°C:
the linear expansion coefficient of 12.67x10-6/°C;
— density of 8.18 g/cm3;
— heat capacity of 13.9 W/(m·deg);
the resistivity of 1,247, Mhmm2/m.
Buy at best price
LLC «AVEK global» implements of precision alloys at a bargain price. It is formed under the influence of world prices for metal without the inclusion of additional costs. Sheet HN77TYUR belongs to the popular group of steel products due to its real value and variety of output options. The face of our company determines the high level of service and excellent quality products. On the website LLC «AVEK global» reflects the most current information. Our managers are always happy to help answer questions. Implementation of orders takes minimal time. Deliveries go directly from the warehouse. This gives consumers significant savings on inventory and facilities. In the absence of the basic version, the required version of the products, we can produce them according to individual order.