Molybdenum round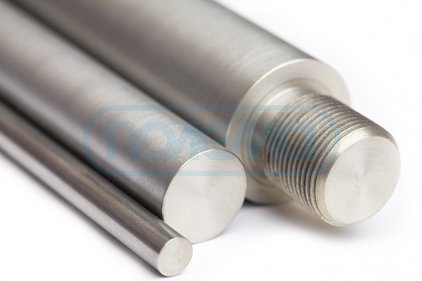 Dignity
The range of molybdenum is able to withstand high mechanical loads even at high temperature. It is characterized by heat resistance, heat and corrosion resistance, resistant in solutions of concentrated acids and alkalis, has a high modulus of elasticity, low coefficient of thermal expansion, viscosity, hardness. These advantages allow to apply it in various fields of modern industry. It has wonderful mechanical strength compared to tungsten — it is half the size, and therefore has a large specific strength (at t° to 1370°C).
Physical quality
The temperature at which the obtained data the features of t°C
20°C
The linear thermal expansion coefficient α [1/°C]
Of 4.9x10-6
Density [g/cm3]
10,2
The melting temperature t°C
2620°C
Specific heat at 20 °C [kJ/(kg·deg)]
0,256
The thermal conductivity K [W/(m·K)]
142
Electrical resistivity R, Mhmm2/m
5,7
Alloying
A circle of titanium-molybdenum alloys easily transfers heat to t° 1500 °C. Molybdenum circle MCH, MC, MS (doped with silicon) is operated at temperatures above 2000 °C. the Circle marks MPH, MCH, and molybdenum with silicon-base additive, have high tensile strength and Flexural strength in the annealed condition, and the recrystallization temperature. Doping an impurity of cobalt increases ductility in the annealed condition.
Settings
Properties
Diameter
Length
Hardness
Density
The resistivity
3−110 mm
up to 1000 mm
over 120 HB
In excess of 10.2 g/cm2
6.63*10−6 Ω *cm
Disadvantages
Molybdenum refers to rare earth elements, in its purest form is quite difficult to identify, it is refractory and hard to work — all this affects the high cost of the final products.
Use
— aerospace industry
— nuclear power
— industrial chemistry
— heating elements for high temperature electric furnaces.
— mold for carrying out hot working, sintering special ceramic mass, electrodes.
— parts of vacuum tubes.
— melting heat-resistant rare-earth metals.
Manufacturing circle made of molybdenum.
Mark
Name
The content of the landings percentage to
Ca+Mg
Al+Fe
Fe
Ni
W
With
Si
N
O
MCH
wire
0,005
0,018
0,009
0,005
--
0,005
0,014
--
--
MCIT
round
0,003
0,014
--
0,003
0,2
0,3
0,003
0,003
0,1
Buy at best price
In stock LLC «AVEK global» — the widest range of products from rare and refractory metals. We offer molybdenum circle any of the options at the best prices. Our specialists are ready to answer any questions and to help in the selection of necessary materials, upon request, will provide all the necessary information about the product, cost and delivery time. Rates depend on scope of delivery and additional conditions. For wholesale orders discounts. Buying products of the company «AVEK global», You will find a worthy partner.