Sheet, tape 12x13 - 1.4006 - aisi 410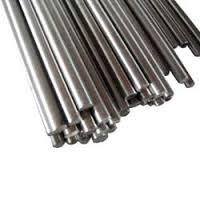 Properties of AISI 410
AISI 410 — this type of steel is martensitic stainless steel which by heat treatment hardened, has high wear resistance, good ductility and corrosion resistance, heat resistance, high impact strength. In the annealed condition the steel structure 410 is a mixture of carbide, ferrite phase. In the process of heating to a temperature of 960−1020°C and subsequent quenching (in oil, air) is formed martensite, whose hardness is directly proportional to the carbon content. Thus, the resulting chromium carbides dispersed further strengthens its structure, improving the wear resistance and hardness.

Chemical composition of 410 steel standard ASTM A240
Si
S
P
Mn
Cr
C
Min.
Max.
-
0.03
-
0.04
-
0.03
-
0.15
-
0.15
-
1.00
-
0.03
Mechanical properties of AISI 410.
Steel AISI stainless
A typical chemical. composition
Typical mechanical properties in annealed condition
Hardness in the hardened state *
Chrome
Carbon
Tensile strength, MPa
Include. elongation, %
НRB
Yield strength, 0,2%, MPa
410
12,5
0,13−014
500
30
82
290
38−45
* tempering at a heating temperature of up to 980 °C, with a further vacation in the rate. 200 — 555 °C and air cooling.
Scope
Steel AISI 410 is used when you want the optimum combination of corrosion resistance and high wear resistance:
details of thermal reactors and turbines;
-cutting edges (knives, scissors, etc.);
wear-resistant gaskets, hardware;
-kitchen utensils;
filters, heat shields;
Relevance
Steel grade AISI 410 according to GOST 5632−72 resistant to scale formation up to t° 700 °C. This steel is successfully replacing brand 12H13. The details of increased plasticity, undergoing shock (household items, valves, hydraulic presses), as well as products exposed to slightly aggressive media (aqueous solutions of organic acids, salts, precipitation at room temperature), valves, steam turbine blades, pipes and fasteners. In addition, this steel compared to Nickel-containing steels (according to GOST 5632) is much more stable in sulfur-containing environments. In accordance with the technology of the maximum corrosion resistance is achieved after heat treatment (quenching and tempering), and polishing. Using analog stainless steel — 12H13 in the processing and food industries regulated by normative documents. For example, GOST 27002 indicates that in the production of cap-utensils must be used steel 12H13, 08KH13 and St.
Martensitic steel type AISI 410 relevant in the production of machines and machine parts that directly contact with food acids. Steel such as 12H13 (AISI 410) can be used in the production of equipment and machinery for wine-making. They are allowed to use in contact with the wine, cognac alcohol, wort, the waste products of winemaking. Steel grade AISI 410 can be used also in production of technological equipment that is used at different stages of food production (hygienic handling or cleaning materials, equipment and products, shredding, sorting and separation of products, heat treatment, mixing, packing, transport and packaging).
Welding
To ensure corrosion resistance should remove the dross, as well as the color of the tint by etching or mechanical treatment with brushes made of stainless steel and prepassivate cold solution (10−20%) nitric acid. The next step is a thorough rinsing in cold water and drying. This steel is welded by any known methods through the adoption of a post-weld passivation measures, etching/cleaning without losing corrosion properties in welding areas. For optimal use of arc welding in inert gases, you must comply with the minimum energy consumption during the welding of the seam. Recommended welding «on top» (i.e., if the work surface falls below the welding tool). In the form of filler material used for austenitic wire SV-07CR25NI13, 309L, St-08Х25Н13БТЮ, etc. it is also possible to use electrodes or filler wire with the base in AISI 410.
Buy at best price
All customer requests will be fully satisfied with the products, which are produced from AISI 410 company LLC «AVEK global». The popularity of this type of products made of this steel, due to high quality products, great variety and real value. Any our products are held absolute control throughout the manufacturing process, to guarantee absolute high quality of our steel products. Modern technological capabilities at any stage of production provide the opportunity to carry out individual orders in the absence of the required items in the basic version, or optionally, in another embodiment of the product. The company «AVEK global» is always ready to produce quality products of various non-standard options to order.