Flange stainless steel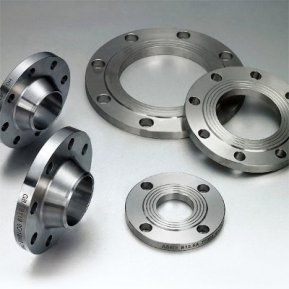 Relevance
Stainless steel flanges used in pipes for sealing joints of pipes, connection of pipe fittings. Attached to the tubing with bolts, studs, nuts or welded.
Range
There are many domestic manufacturers, but import pipe fittings a number of industries demand more, so today the market also provides a large selection of imported stainless steel flanges (stainless steel 304 AISI standardized to DIN (ISO)), but only in a limited range of diameters (du150 — DN15), which are designed for a pressure of 10 — 16 atmospheres. For stainless steel flanges, which are standardized to DIN (ISO) and GOST some spacing for the mounting bolts do not match. When buying, be careful.
Classification
Stainless steel flanges are categorized by size, nominal pressure, the shape of the sealing surface. The mounting collar exist (butt welded) — GOST 12821−80 and flat — GOST 12820−80. The latter according to the standard 12820−80 the range of diameters is Ду10 -1600, and the working pressure PN 1−250 ATM. More often used for the connection — 1 (projection). Flanges 12X18H10T used at a temperature of -40°C to +300°C. F. the collar (according to GOST 12821−80) have a conical protrusion which is welded to the pipe. They got their name in the form of compounds with the pipe end shape of the collar. They have a greater number of sealing surfaces (performed 1−9). In version 1, a typical flat collar flange can be applied with a pressure up to 250 ATM Ru.
Buy at best price
LLC «AVEK global» offers the most favorable conditions of steel products. The offered range of stainless steel flanges can satisfy any customer. The volume of purchase and additional conditions of supply depends on the price. Carrying out wholesale orders, you can count on company-provided flexible system of discounts. Our managers are always ready to provide advice. A large range will not leave you without a choice. The timing of orders is minimal. All products are certified. Quality is guaranteed by strict observance of technological norms of production.