Bellows axial expansion joint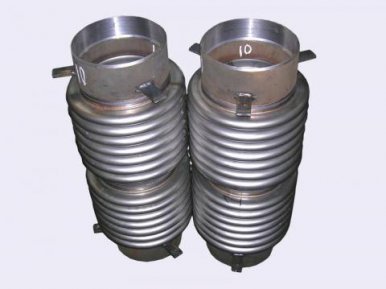 general characteristics
The device consists of one or more bellows, protective, restrictive armature. In fact, the bellows is a single-ply or multilayer corrugated sheath used to delineate environments. Thanks to this shell, the strength, stability and tightness of the pipeline system are preserved for longitudinal angular, transverse and bending loads that occur under the influence of temperature, internal or external pressure, mechanical forces.
Advantages
Neutralize the thermal expansion, the vibration of the pipeline, have a high degree of resistance to all kinds of cyclic deformations. Due to the fact that these devices are perfectly sealed, they can work under vacuum, severe temperature conditions, with significant pressure drops — in systems with liquid, vaporous media,
Compensators are made of high-strength materials, which allows them to be used in contact with an aggressive environment. They can be mounted practically anywhere in the pipeline, they can neutralize the static, cyclic loads that occur during hydrodynamic shocks and vibrations. Are characterized by small dimensions, operational unpretentiousness, economic profitability. With their use, the cost of maintenance and repair of pipelines is significantly reduced.
Varieties
There are two types of these devices: two-bell and one-bell. They consist of a two-section or one-piece expansion joint made of stainless steel and placed in a steel protective casing.
CSR (compensator bellows axial) is used to compensate for temperature fluctuations in heat networks. They are installed only on straight sections of the pipeline. These devices are widely used in heat networks, pumping units, electric power stations, water heating installations.
Corner with. They have small dimensions, a large bending angle. Most often used for heating networks, chemical industry. Created specifically for work on non-straight sections.
Scope of application
Quench transverse movement, any shifts relative to its own axis when working with the following working media: water, oil products, gas, steam. Widely used chemical, oil and gas industry, shipbuilding, energy, nuclear complex, engine building, aircraft building space industry, heating networks, heating systems of multi-storey buildings.
Buy at a bargain price
LLC «Avek Global» offers the most favorable conditions for the implementation of bellows expansion joints. The offered assortment of compensators can satisfy any customer. The price depends on the volume of purchase and the additional terms of delivery. By carrying out bulk orders, you can count on the company's flexible discount system. Our managers are always ready to provide advice. A large assortment will not leave you without a choice. The lead time for orders is minimal. All products are certified. Quality is guaranteed by strict observance of all technological norms of production.