Circle, wire, magnet tube 50® - 1.3922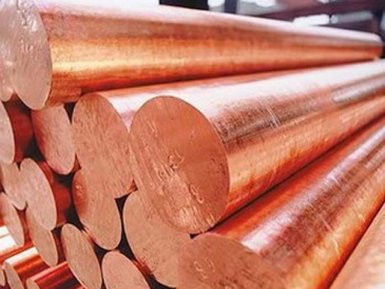 AvekGlO sells a wide range of rolled products — pipe, wire, a circle made from magnetically soft Magnifer 50® alloy (or 1.3922, according to DIN EN) at affordable prices from the manufacturer. The supplier ensures guaranteed delivery of products to any point specified by the consumer.
Composition and application
Alloy Magnifer 50 is a magnetically soft alloy based on nickel and iron with a nickel content of about 48%. It has a saturation induction of 1.55 T and a high magnetic permeability. Of all iron-nickel alloys, Magnifer 50® (1.3922) demonstrates the highest value of saturation induction.
Typical applications for the Magnifer 50 alloy are: LF power transformers in the rotor and stator layers), chokes, relay parts, stepper motors, magnetic valves, shielding systems.
Magnifer 50® alloy is available in three versions that meet the requirements of different applications:
Magnifer 50 RG with isotropic fine-grained structure;
Magnifer 50 TG with coarse anisotropic structure. This structure increases the magnetic permeability, both in the direction of rolling, but in the transverse direction;
Magnifer 50 T, with a cubic structure, which leads to an almost rectangular hysteresis loop with a residual resistance of about 1.5 T;
Variant Magnifer 50 MH-BSo, which is distinguished by increased corrosion resistance, and is used to produce stamped blanks.
The chemical composition of the alloy (in accordance with ASTM A753, numeric data — in percent):
| | |
| --- | --- |
| Iron | 49 |
| Nickel | 50 |
| Cobalt | footprints |
| Molybdenum | footprints |
| Carbon | 0.02 |
| Manganese | 0.5 |
| Silicon | 0.35 |
Buy under the economically favorable prices from the manufacturer the wire, a pipe or a circle made of an alloy of the Magnifer 50® (or 1.3922) is offered by the company AvekGlob. The supplier guarantees the prompt delivery of products to any address set by the client.
Properties
Basic physical characteristics of the alloy:
Density, kg / m 3 — 8180;
Melting point, 0 С — 1427;
Coefficient of thermal conductivity, W / cmgrad — 0,13;
The coefficient of thermal expansion in the temperature range 25… 4000С, μm / degree — 13.
Basic mechanical characteristics of the alloy:
The limit of temporary resistance, MPa — 518;
Yield strength, MPa — 159;
Relative elongation at tension,% — 40;
Modulus of elasticity, GPa — 166;
Hardness according to Rockwell (scale B), no more than — 80.
Company Avecglob proposes to purchase at affordable prices from the manufacturer a circle, wire or pipe, which are made of magnetically soft iron-nickel alloy Magnet 50® (1.3922). The Supplier shall immediately send the products to any point agreed by the customer.