Nickel alloys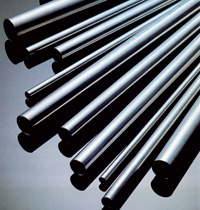 Heat-resistant alloys of chromium and nickel — nichrome are indispensable in modern technology. The most popular formulations are with 80% Ni, which until recently were the most heat resistant materials. To reduce their cost, a high percentage of Ni was reduced by increasing the proportion of iron. The composition of 15% Cr, 60% Ni, and 25% Fe was the most successful. The stability of nichromes is higher than ferronichromes, so the latter are usually used at a lower temperature. Ferronihromy and nichrome have a rare combination of high electrical resistance (1.05−1.40 Ohmmm 2 / m) and high heat resistance. Therefore, together with the chromals, they represent the two most important classes of alloys used in the form of tape or wire for the production of high-temperature electric heaters. For such, nichrome is usually used, doped with up to 1.5% silicon, rare earth, alkaline earth metals. The limiting operating temperature of nichrome of this type is close to 1200 ° C, and in a number of grades — to 1250 ° C.
Buy at a bargain price
The company Avek Global LLC sells high-temperature alloys on favorable terms. The price is due to technological features of production without the inclusion of additional costs. The warehouse has the widest range of products for large-scale production. We also have attractive conditions for retail customers. The company's website displays all information about the goods, there is a catalog of products and price lists. Find us easily on the Internet at avglob.org. We are waiting for your orders.