Germanium brand, chemical structure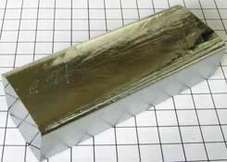 Germanium is a silvery lightweight metal, the element of the 4th group of the system the chemical. items where labeled as Ge. Refers to multiple elements. Its atomic weight 72,59, while the share of 5.33 g/cm3. Opened by a German scientist Winkler in 1886 and was named by the name of his homeland — Germany. In a free state is not found, only as an impurity in Nickel tungsten ores, sedimentary rocks, coal, silicates, peat, thermal waters, and accumulated algae.
Chemical and physical properties
Germanium is quite brittle metal. To t° 550 °C it is hot and cold pressure treatment. Surface film of oxide, makes it quite stable under normal conditions to the action of air, water, hydrochloric acid. He is very weak reacts with caustic alkali, but easily dissolved with Aqua Regia or alkaline solution of hydrogen peroxide. The Ge Valence +2; +4. Chemical compounds are more stable with higher valence are Most often used dioxide GeO2. .
Physical quality Ge
Atomic (molar) mass, g/mol
72,64
The degree of oxidation
4, 2
Density [g/cm3]
5,323
The melting temperature t°C
938,2°C
The heat of fusion kJ/mol
36,8
The thermal conductivity K [W/(m·K)]
60,2
Heat of evaporation kJ/mol
328
Production
Germanium is obtained by processing of ores of non-ferrous metals, and ash from coal combustion. Define its content with the aid of spectral emission analysis, where it is detected by the formation of the German-molybdenum bright yellow acid. Metallurgical method it is smelted at t° 800 — 1800 °C. to obtain technical it purify germanium in quartz columns with hydrochloric acid, method of diffusion, which is directed to the crystallization. The production of monocrystalline Germany used in semiconductor devices regulated GOST 16153−80 and appropriate technical terms.
Application
This metal refers to semiconductors, which are used as high-frequency single crystals for the production of transistors, photoresistors, photodiodes and diodes. From Germany made the Hall sensors, resistance thermometers, lenses x-ray spectroscopy. In the jewelry and prosthodontic technique applied high strength coating Germany. Some alloys are designed for corrosion protection coatings and impurities dioxide GeO2 is used in alloys, rolled metal wires, rods, sheets.
Buy at best price
Large selection of rare metals in stock LLC «AVEK global» can satisfy any consumer. Quality is ensured absolute compliance with all technological norms of production. We offer products from warehouses in Russia, Ukraine with delivery to any address. Our experts will pack, complement, promarker your purchase, and will also follow up on delivery. All available products are certified. The price depends on order volume and additional conditions of delivery. The timing of orders is minimal. For wholesale orders the company provides a substantial discount.