PANCH-wire 11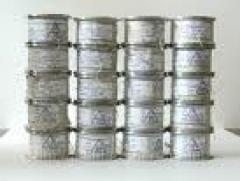 General characteristics
Wire PANCH-11 is produced according technical conditions TU 1842−118-ОО195430−2002 and the 48−21−59З-85. This wire is used for welding together parts of metal structures, elimination of the appeared defects and cracks, brewing the worn holes. The wire contains special components that contribute to the formation of the seam and protect against oxidation of the weld pool. During the restoration of the parts, no additional stresses. After the weld metal shall be subjected to additional processing with the help of tools. The diameter of the wire PANCH-11 is 1.2 mm. Chemical composition of wire: Nickel, copper, manganese, iron, and other impurities such as carbon and silicon. This wire is supplied in the solid state.
PUNCH-11
The main components
Cu%
Fe%
Si% C%
Impurities
Ni
Mn
Basis
5−6%
2,3−3%
up to 2%
0.3%
0.3%
Use
Marking wire PANCH-11 is best suited for welding and surfacing of cast iron very durable. Also it is perfect for cold welding, it is possible and semi-automatic welding open arc, that is, without the protection of the molten metal with a flux or gas. The seams on the parts are performed with a relatively low heat input, almost no need to do breaks for cooling parts. With this wire, it is easy to make a crack in the any iron items, even in a very remote place. After welding, the entire weld metal can be processed very well, it does not warp, and there are no different internal stress.
Due to the fact that the wire is composed of special chemical elements, when welding is not required the additional use of protective gas. When welding cast iron is its bleaching, and in the process of heating it very quickly begins to go from solid to liquid. This wire copes with all these problems, when welding no cracks in the metal. In order to increase the reliability of welding, the seam edges are separated to insert the threaded studs. Also during the welding of cast iron is used a method of annealing rollers.
Dignity
Wire PANCH-11 significantly improves the quality of welding and level of bearing capacity of the parts after their restoration. Very much improves the performance of the weld significantly decreases the amount of preparatory work and much greater capability for repair parts. Also significantly reduces the consumption of welding materials compared with most ordinary manual welding.
Buy at best price
Buy welding wire at the best prices in our company. We presents a wide range of wire that will satisfy the most demanding customer. Order and buy wire PANCH-11 is possible either through our website or through our nearest branch office. Wire quality is guaranteed the full observance of technological norms of production. Deadline of orders is minimal. The price of the finished product depends on the volume of orders, and any additional terms of delivery. For a large party applies a flexible system of discounts.