Water and gas pipe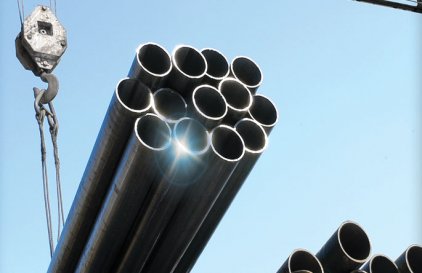 Benefits
Vodokazoprovodnye steel pipes are designed for laying gas and water systems, designed for high pressure. They are much stronger than copper ones, they have a long service life, they fully comply with sanitary norms. Durability, reliability, recyclability for recycling, make them highly profitable.
disadvantages
Uncoated pipes, in contrast to galvanized, are less durable, more prone to corrosion from the action of chlorinated water.
Production
Boiler and water and gas-conducting steel pipes are produced in accordance with GOST 3262−75 with cut or rolled cylindrical threads or without threads (in accordance with GOST 380−88, 1050−88) without standardization of strength properties, chemical composition. All electrically welded steel water and gas pipes have reinforced seam. They are made of two types: zinc-coated or galvanized. The thickness of the galvanizing coating is not less than 30 microns. Galvanizing heavies the wiring by 2−3%.
Classification of water and gas steel pipes
Accuracy
For the application of cylindrical threads
According to the state of the surface
By the length of the pipe
By length of thread

Ordinary

P increased

P is sliced.

H — rolled.

Without thread.

Zinc-plated

Nemernoy within the dimensional.

Measured length 4 — 12 m;

A multiple measuring with an allowance of 5 mm per cut and a deviation of +10 mm;

C — short.

D — long
Application
Creation of water pipes, gas pipelines, heating systems, parts of water and gas pipelines.
Buy at a bargain price
LLC «Avek Global» offers the most favorable conditions for the sale of rolled metal. A large selection of pipes provided by the company can satisfy any customer. The price depends on the volume of purchase and the additional terms of delivery. At wholesale sales there are significant discounts. Managers of the company are always ready to provide advice. A large assortment will not leave you without a choice. Our company guarantees timely delivery. All products are certified. Quality is guaranteed by strict observance of all technological norms of production.